---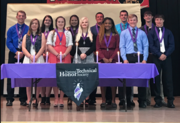 2018 NTHS Members and Inductees
---
NTHS Inducts Members
National Technical Honor Society (NTHS) inducted 3 members during its induction ceremony on May 8th, prior to the Honors Night Program. The Plainview High School NTHS Chapter recognizes and honors students for outstanding achievement in their career and technical education programs. This recognition is achieved through a nomination, evaluation, and selection process based upon exemplary citizenship, leadership, workmanship, and scholarship. The highest recognition bestowed upon career and technical education students is through membership in the National Technical Honor Society.
President Elizabeth Kment along with senior members conducted the candle ceremony, which describes the seven membership attributes. Following, three seniors were inducted. Seniors inducted were Trenton Steinkraus, John Novicki, and Matthew Hoffmann. Members received a certificate of membership, membership card and pin, tassel, NTHS sticker emblem, and diploma seal. Current Members are Jordyn Anderson, Austin Choat, Kylee Jipp, Elizabeth Kment, Brittany Pellatz, Brittani Wacker, Tait Ziems, Jasmine Zulke, and Matthew Bonta.
NTHS Adviser Ronita Jacobsen and Chad Kment completed the induction ceremony by presenting the seniors with their NTHS medallions, which will be worn at graduation.