Childcare and Parenting "chat" with Holland Parent
Students in Childcare and Parenting learned much about the difference in culture in regards to parenting last week as they participated in a live video chat with a parent, Mattie, from Holland.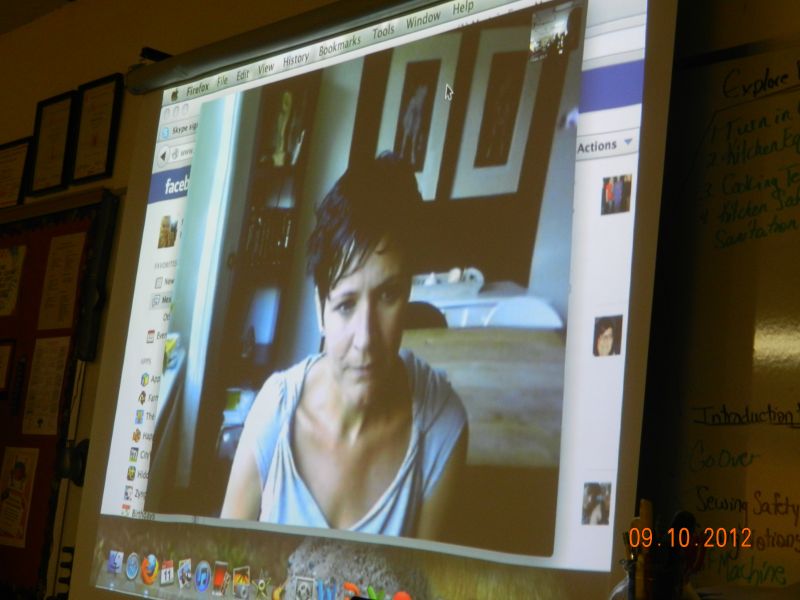 Mattie, 1989 PHHS Foreign Exchange Student from Holland, shared with the class parenting customs and government laws in Holland.
In 1989 Mattie was a foreign exchange student from the Netherlands who lived with Barb and Gene Young and attended school here at PHS. Mattie is lovingly titled the "foreign exchanged aunt", by student Miranda Hoffart, granddaughter of the Young's. Miranda had recently reunited with Mattie when she was here this past summer visiting the Young family. Mattie has returned to visit Plainview three times since 1989.
The class had been discussing the roles and responsibilities of parents along with cultural differences when Miranda had the idea of a video chat with Mattie. With a time difference of 8 hours to consider, a time was arranged and questions were prepared by students.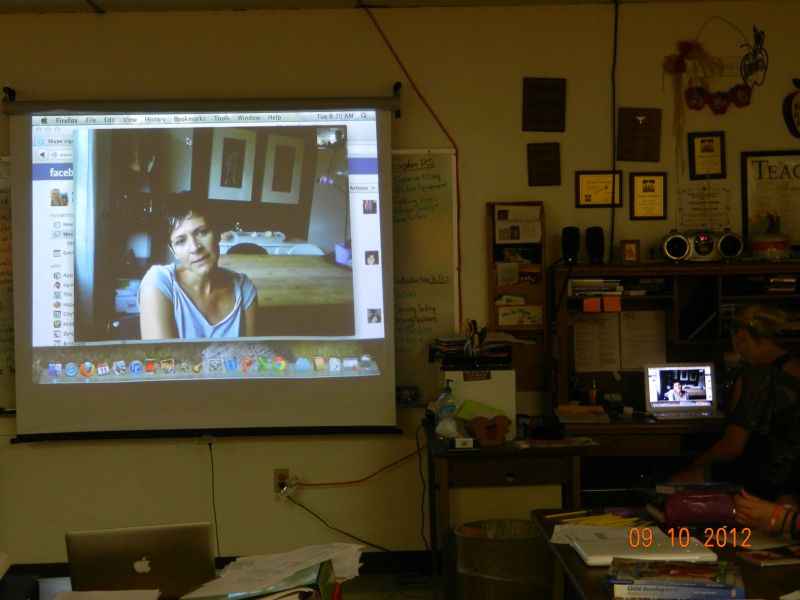 Miranda Hoffart arranged and facilitated the video chat as Mattie was the foreign student who lived with her grandparents Barb and Gene Young in 1989.
Mattie easily answered students' questions about parenting customs, laws, and traditions. Students were impressed with her language skills (she speaks six languages), and knowledge of parenting and the law (she has 2 young children). Due to her experiences here as a teen in 1989 and experiences since then in her travels back to the U.S., Mattie was able to compare and contrast for students the differences in parenting styles among Holland and US parents. In addition to parenting, she was able to provide information on the educational system and laws related to parenting and health care.
Comments from students in class include...
"When speaking with Mattie from Holland, I learned that children are protected by the government. The government is a part of the child's life from the beginning. Most deliveries occur at home with a medical practitioner present (no pain medication is used), a nurse is provided by the government for the first 10 days to live with them and assist the parent, the mother gets 16 weeks off of work and the absence is paid for by the government, the government also pays for monthly well baby check ups for four years and also pays for all immunizations," stated Erika Neumann. "The government provides us with lots of education in raising/parenting our children.
"The government is also involved in their education. A child starts school at first grade when they are 4-5 years of age (all must be in school by age 5). The government pays for a student's education until they turn 12; then the parents must pay for the child's education. College (university education) begins at 17 years. Children and parents select which university to attend where they go to school for up to 3-4 more years," stated Riane Cash. "Sports, dances, and other extra curricular activities that we have here are not part of their school system. They are extras that students participate in after school hours."
"Spanking as a form of discipline is not seen. Time-outs are used the most along with removing privileges. Of course, some parents are stricter than others about different things. Holland is a little more health conscious than the United States. Most meals are eaten at home as fast food is very expensive. Daycare is also paid for by the government...subsidized based on your income," stated Karen Follette. "When we discussed child abductions, she said they were uncommon, but they do have the Amber Alert like we have."
"There were many points of interest, but what interested me the most was on how young kids could be to do things. On of the things was with drinking and buying tobacco. For a child to drink just beer they can be 16, but must be 18 or older to drink hard liquor. Tobacco products can be purchased at 16. A child is considered an adult at the age of 18, but they usually start what they call college at about 17. Tattoos and piercings can be done at the age of 16 without parent permission. Facial piercings in Holland are more common that tattoos," stated Laredo Stacken. Miranda Hoffart added, "The one set back would be is that they can't drive until they are 18, although they can get a license for a scooter (Moped)."