FCCLA Attends Peer Ed Conference-Shaffer State Finalist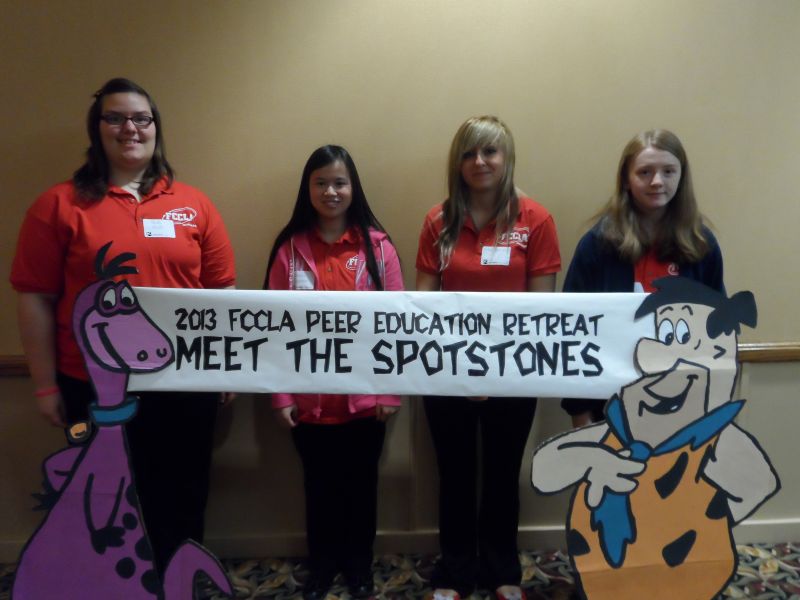 Heidi Nelson, Natalie Lingenfelter, Celine Eggerling, and Ashely Shaffer at Peer Education Conference/STOP the Violence Training.
The Plainview FCCLA chapter had 4 members attend the annual PEER Education
Retreat held this past Sunday-Monday, February 24-25th in Kearney, NE. The
theme of the retreat was "Meet the SPOTstones" which was hosted by the
Families First, Student Body, and Financial Fitness Peer Education Teams.
Over 425 FCCLA members and Advisers from 50 schools across the state
attended the event. Those attending from Plainview were Celine Eggerling,
Ashley Shaffer, Heidi Nelson, Natalie Lingenfelter, and Adviser Ronita
Jacobsen.

During the opening session, Ashley Shaffer was recognized as a finalist for
the 2013-2014 PEER Education Team-Student Body. She was introduced and
presented a certificate. During the FCCLA State Leadership Conference she
will take a written test over the PEER Program Student Body, give a 2-3
minute speech on a Student Body Topic, and go through an interview process.
Plainview was also recognized for various projects they did this fall. The
chapter received "National Family Week" and "Money Smart Week" certificates.

Members began the two-day conference by attending the Sunday pre-conference
session "STOP Training (Students Taking On Prevention)". The STOP Program
empowers youth with attitudes, skills, and resources in order to recognize,
report, and reduce youth violence. FCCLA members use this peer education
program to reach their peers with violence prevention education, recognize
warning signs of potential youth violence, encourage young people to report
troubling behavior, collaborate with school and community resources to
address youth violence, and develop and implement local action projects to
reduce the potential for violence in their school.

The Keynote speaker on Monday was Todd Calfee of the Alexis Project. He
spoke of the very important message of sober driving. Calfee and his family
shared their experience in dealing with the death of their daughter who was
killed by a drunk driver. This was the drunk driver's 7th conviction.
Members left the session reminded of how all decisions have consequences and
to make smart decisions--the lives of others depend upon it.

The Student Body, Financial Fitness, and Families First Peer Teams arranged
for three breakout sessions. One session focused on PEER officers providing
information about the peer education programs to members through a variety
of activities associated with the three peer teams. Another PEER session was
on fitness featuring the Kearney YMCA with an "Exercise Surprise" which the
Student Body PEER Ed Officers organized. The third session, organized by
the Financial Fitness Team, featured Brain Broich speaking on "Taking Credit
Out of the Stone Age".