FCCLA Shines at State Conference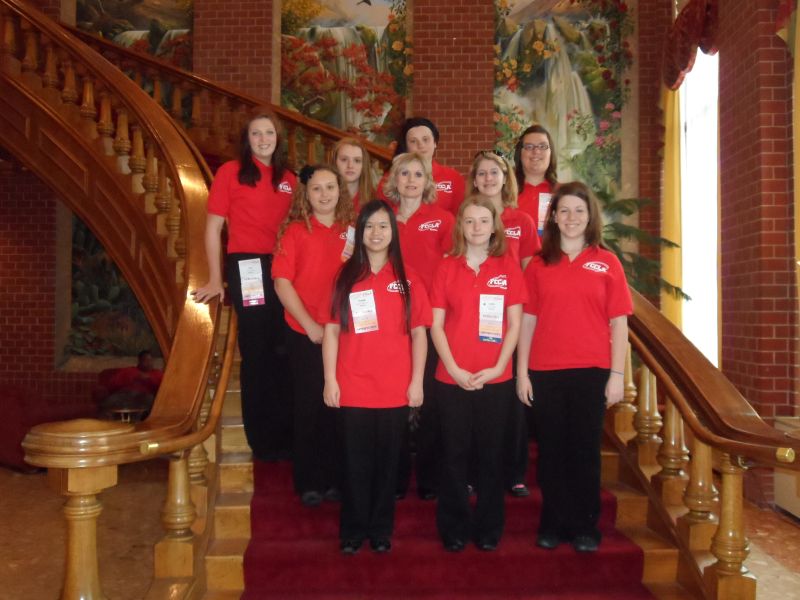 "LIGHTS! CAMERA! TAKE ACTION!" was the FCCLA 2013 State Leadership Conference theme in which 9 members from Plainview attended. And "take action" they did! A number of "firsts" occurred at the conference this year including announcement of a State Peer Ed. Officer and Quiz Bowl Performance; and it will be the 2nd time a member has qualified for Nationals! Attending from Plainview were Erika Neumann, Ashley Shaffer, Natalie Lingengelter, Heidi Nelson, Caitii Ziegenbein, Trelynn Morrow, Cheynne Bolling, Laredo Stacken, and Donnie Wright along with adviser Ronita Jacobsen and parent sponsor Dian Wright.
nd
time an FCCLA member has qualified for Nationals. Trelynn Morrow also competed in State STAR and received a silver medal in her Fashion Design Senior Division Project. "I didn't want to be disappointed so I had myself convinced I wouldn't get first. So when they called my name as Top Gold, I was like "WHAT?" and was confused. I'm not sure who yelled louder, my mom or Mrs. Jacobsen as I walked across the stage. I'll have to watch the video again."
Ericka Neumann, Natalie Lingenfelter, Ashley Shaeffer, Caiti Ziebenbein, and Heidi Nelson competed as a team in the FCCLA Quiz Bowl. They first took a written test in which their scores were averaged. After opening session Monday night, they discovered they had made the "Top 8" which meant they went to the buzzer round. They won their first round against St. Edward and lost in round two by one question. "This is the best we have ever done! We have never made the top 8 before and then to make it the semi-finals round was amazing. I was so proud of them and the effort they put into studying for this event," state Jacobsen.
Morgan Johnston, who was unable to attend, was recognized and received Power of One pins and certificates for completing all 5 Power of One Units. She will receive additional chapter recognition at the FCCLA Plainview Family Night Awards Reception held on May 2.
Heidi Nelson represented the chapter as Voting Delegate as she is the 2012-2013 FCCLA Chapter Vice-President. Her responsibilities included attending the Voting Delegate Session, hearing State Officer Candidate speeches, and watching the candidates complete a "Fishbowl Activity" followed by casting the chapter's ballots. Nelson also represented the chapter in the President's Parade onstage during Opening General Session.
During the Tuesday closing session, the Plainview Chapter was awarded the Chapter Award-Gold Star Plaque, highest rating for chapters. The award reflects FCCLA members' Program of Work for the 2012-2013. Members are to set realistic goals for themselves and conduct a balanced chapter program of work that is related to the family and consumer sciences program. The chapter had 15 specifics tasks they needed to complete and document in the following areas: Planning, Organization, Membership, Leadership, Programs, and Marketing. The chapter was also recognized for their collaborative efforts in the FEED NEBRASKA program in which the chapter worked with FFA, FEA, NHS, and NTHS in order to gather donations for our local food pantry. At the conference, Jacobsen was also recognized with the ACE (Adviser Committed to Excellence) Award.
Caiti Ziegenbein, 2013-2014 District Officer, attended the District Officer Leadership Session where she was informed of her duties as a district officer and collaborated with others on ideas for District Leadership Conference Speakers. She will run for her specific district office at the District 8 Officer Meeting, which will be held in Pierce at 4:00 on May 15th.
On Monday, members were able to attend the Opportunity Fair and participate in tours of the Governor's Mansion and State Capital. Members also attend a session by Kirk Smalley "Stand for the Silent". During Opening Session, Keynote Speaker Hannah Wright shared her life story with FCCLA members. Wright was born with Spondylo-Epiphyseal Dysplasia and grew up in a world not made for her. Full of determination to prove to anyone who believes she cannot achieve something due to her height, she has become an inspiration to those who believe they cannot achieve their dreams. Wright's presentation drew on her high and lows in life and the successes and failures she has endured. She believes that sharing her story will help others find their voice also.
Tuesday found students attending R5 with presenter Mike Donahue, who works hand in hand with young people all over the world, helping them find purpose and define themselves, as they navigate the difficult transition form child to adult. He helps young people find the answer that is already inside of them and to help them find the courage to face whatever it is that is holding them back from experiencing greatness. Students also attended Flash Mobs, Clothespins, and Sidewalk Chalk: Guerilla marketing for FCCLA, Spread the Red, Encouraging Healthy Eating with Study Body, Taking Actions: Presidential Leadership, and the Japanese Exchange Experience.