Plainview Kids for Cures Winner
For the fourth year in a row, Plainview High School has won the Norfolk Area Relay for Life-Kids for Cures Competition. Norfolk Area Relay for Life Coordinators presented the traveling trophy Friday night during the Norfolk Area Relay for Life. Accepting the trophy were FCCLA/FFA/NTHS members Caiti Ziegenbein, Becca Wills, Tessa Steinkraus, Cheyenne Bolling, Melissa Pellatz, Jadin Doerr and adviser Ronita Jacobsen. While at the event, members walked the track, played games, and celebrated with cancer survivors.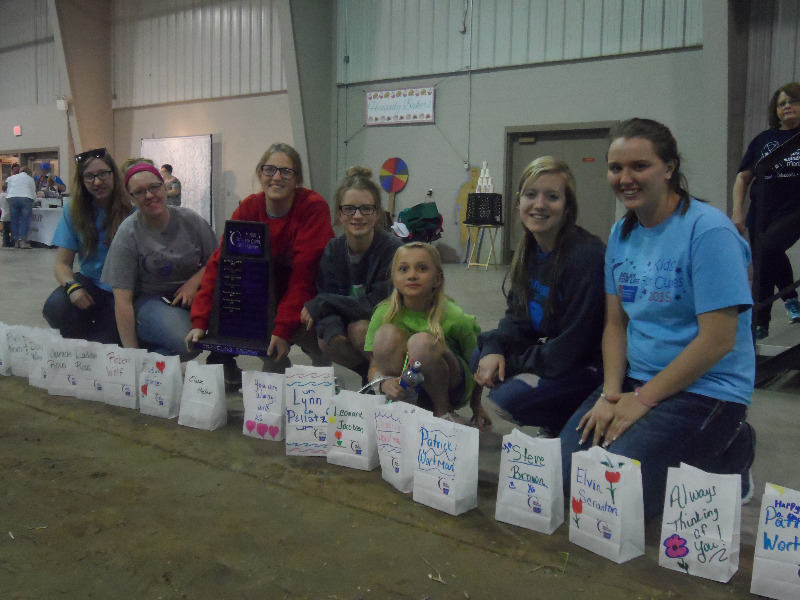 Members stopped along the track where luminarias decorated by Plainview residents honoring their loved ones were displayed.
Through the combined efforts of the Plainview Career and Technical Student Organizations (CTSOs) of FFA, FCCLA, and NTHS, Plainview High School raised $2,010 during the month of March. To raise the funds, FFA held their annual Tractor Parade For Life and collected $800 in donations. FCCLA raised $920 while working with Jac's to hold their annual Jazzercise For Life event. Additional funds were raised by Plainview community members purchasing luminarias which their children decorated in honor of their loved ones. The luminarias were displayed at the Relay for Life event as they outlined the track. They were lit during the 10 pm Lighting Ceremony.
The purpose of Kids for Cures is to get youth involved in community service and help them make a difference in the fight against cancer by raising money. Cancer affects every student in some way. Kids for Cures provides them a chance to help in a simple and fun way that does make a very big difference. It's also a great leadership opportunity that increases school and community pride. Schools in Madison, Antelope, Pierce, and Stanton counties were invited to participate in the annual March competition as the Norfolk Area Relay For Life represents these four counties.