Culinary 1 Students Earn ServSafe Certificates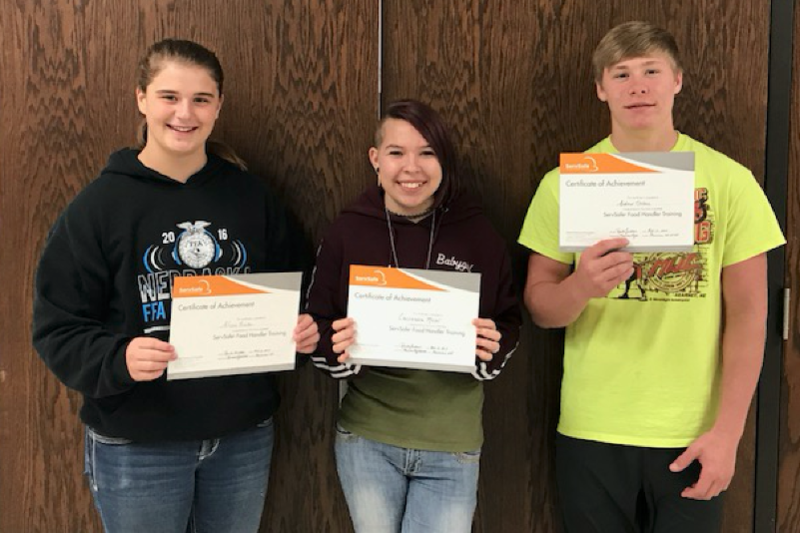 Alicen Fischer, Cassandra Mosel, and Andrew Nelson successfully completed the ServSafe Food Handler Certification course.
Students in Ronita Jacobsen's Culinary I class this year had the opportunity to participate in the National Restaurant Association ServSafe Food Handler course. As a certified ServSafe Instructor and Proctor, Jacobsen was able to instruct and assess students for this industry certification.
The ServSafe Food Handler course covered five sections, which included Basic Food Safety, Personal Hygiene, Cross-contamination and Allergens, Time and Temperature, and Cleaning and Sanitation. Throughout the course students gained much knowledge regarding food safety, worked through real case scenarios, and put into practice food safety guidelines.
"In order to receive certification students needed to receive a 75% or higher on the final exam. Our students scored very well this year with no one scoring less than a 90%." stated Jacobsen. Students receiving the ServSafe Food Handler Certificate are Cassandra Mosel, Andrew Nelson, and Alicen Fischer.
Nationally recognized chain restaurants use the ServSafe® Food Handler Program to provide all their employees consistent food safety training. Recognizing the importance of protecting their patrons, employees, and business, many operators choose to use ServSafe to train their employees to recognize the risks of food borne illness with knowledge and training. The ServSafe Food Handler Program is developed by the National Restaurant Association, the only food safety provider that invests its proceeds back into the industry. Nationally recognized as the premier training for the restaurant and hospitality industry, the National Restaurant Association's ServSafe® Program is the trusted source for food safety training.