FCCLA Attends Fall Leadership Workshop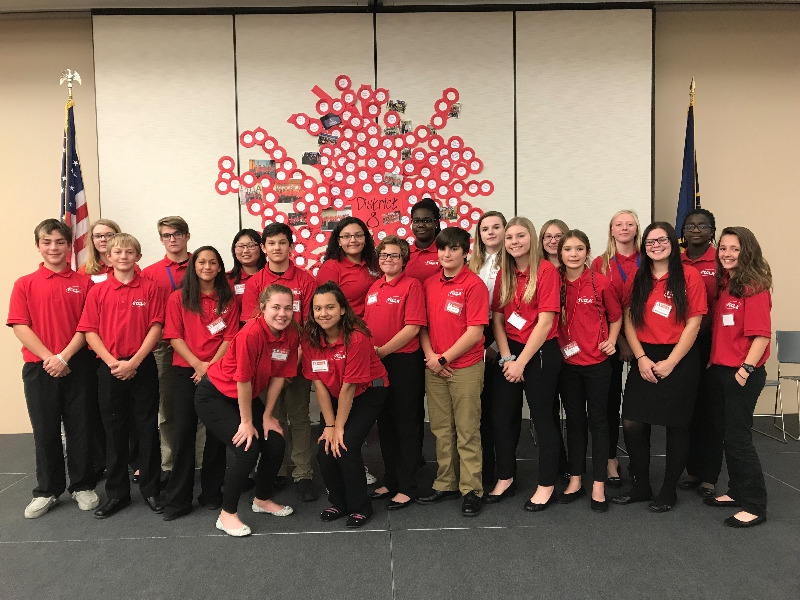 This past week, 21 members of the Plainview FCCLA chapter traveled to Northeast Community College for the District 8 Leadership Conference. The theme for this year's conference was "Branch Out Into FCCLA."
The day started off with by the opening ceremony and introduction of the district officers. The District Officer Installation was then held with Jesica Shaefer being installed. The keynote speaker for the day was Stephanie Olsen, the CEO/President of the Set Me Free Project. She spoke to the students about human trafficking prevention and social media safety.
Students then attended breakout sessions. These sessions included Culinary Arts, Jazzercise, Game and Parks Career Education, Corps of Engineers & Forestry Services, Say Yes to FCS, SPOT Focus, and a Community Service Project where students made doorhangers for the Veterans Home. Students were also able select from three tours of Northeast Community College: Nursing, Media Arts, and Early Childhood Education.
During the Closing Ceremony, Power of One Award Certificates were presented to the following Plainview members for their work this past year: Jessica Schaefer, A Better You; Jessica Stark, Destiny Pollard, Caroline Akinnigbagbe, Aaliyah Brown Working on Working; Ashlynn Ickler, Take the Lead; Jesica Schaefer, Speak Out for FCCLA; Logan Jacobsen, Jesica Schaefer Family Ties.
During lunch, members participated in the bucket auction and FCCLA Knowledge Bowl. Participating in the Knowledge Bowl for Plainview were: Ashlynn Ickler, Lily Whaley, Caroline Akkinnigbagbe, Devon Tunender, Jesica Schaefer, and Destiny Rickard. The money raised from the bucket auction was donated to next year's state officers and national STAR participants to assist with travel expenses to National Conference in July.