FCCLA: Make Your Mark!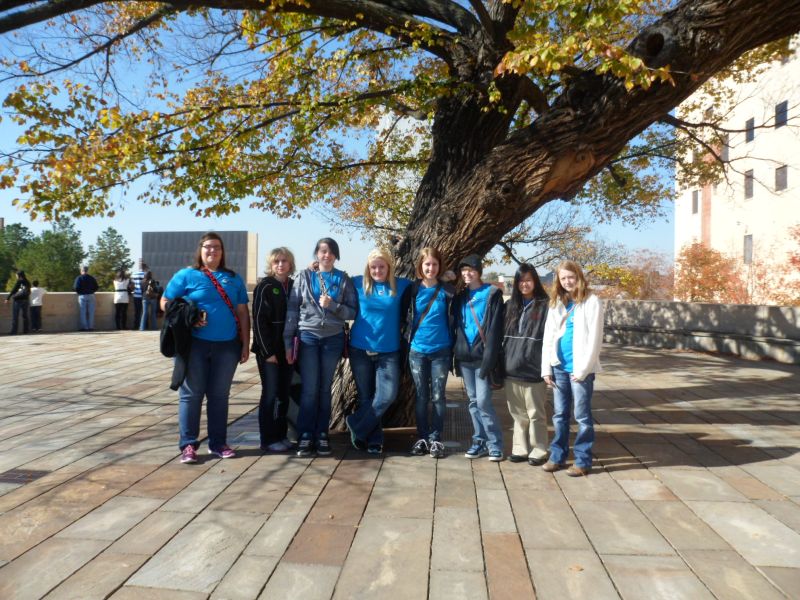 Heidi Nelson, Ronita Jacoben, Laredo Stacken, Miranda Hoffart, Trelynn Morow, Riane Cash, Natalie Lingenfelter, Ashley Shaffer by the Survivor Tree at the Oklahoma City National Memorial and Museum
"Make Your Mark" was the theme of the FCCLA 2012 National Cluster Meeting held this past weekend, in Oklahoma City, Oklahoma. Local FCCLA members Riane Cash, Trelynn Morrow, Ashley Shaffer, Natalie Lingenfelter, Heidi Nelson, Laredo Stacken, Miranda Hoffart, and advisor, Mrs. Jacobsen attended from Plainview along with thousands of other youth across the nation.
The opening general session started off with the presentation of the colors, state officer recognition, and the welcome by the Oklahoma State President, Cole Courtwright. International inspirational speaker Harriet Turk gave the keynote address "Peacemakers in a Violent World". Her motto for the night was "This ain't yo dream!" She inspired members to not be "fake", respect others, and take action when pursuing their dreams. Turk emphasized that you need to do more than "believe it" to "achieve it".
Saturday morning members were busy attending sessions of their choice. Some of the sessions attended by members included a session on texting called "It can Wait"; "FCCLA: To College and Beyond"; "Service Leadership", and "Japan, Opportunity of a Lifetime". The afternoon found members attending sessions such as "The No BULL Workshop", "Science in the Kitchen, Modernist Cuisine", "Lunch Box Lessons: The Journey From Farm to Fork", and "Leaders for Healthy Lifestyles". "My favorite session was the No Bull workshop because it was great to hear the main actor in the Bully movie tell us how to not bully people," commented Heidi. Laredo explained, "My favorite session was the healthy lifestyles one presented by the March of Dimes. I have ideas for projects that we can do to assist in spreading the message of healthy lifestyles which can lead to stronger, healthier babies." Adviser Jacobsen attended additional sessions "Go, Fight, Win: Coaching STAR Events" and "X: marks the Spot: The Membership Treasure Map".
The Saturday Closing General Session began with the Program Review, Competitive Events Awards, and the 2013 National Cluster Meetings Promotion and Leadership Conference Promotion. Patrick Grady gave the keynote address "A Humorous Look at Family, Career, Community and Personal Success!" Grade taught members how to get out of paradigms that hold back creative thinking and how to develop new patterns that support innovation and new ideas. He helped members develop skills that will dramatically impact how they deal with and implement leadership responsibilities. "My favorite part of the closing session was Patrick Grady," commented Ashley. "Patrick Grady was amazing," commented Miranda.
Throughout the weekend members also had opportunities for new experiences. "We had many fun experiences over the weekend! On the corner of the Spaghetti Warehouse where we had lunch, a guy was renting Segways. Jumping at the chance, Ashley, Miranda, and I rented a Segway and got lessons on how to steer one. The Segway was my favorite part of the day…besides the conference of course!" commented Natalie. "We were also able to enhance our map reading and navigational skills and increase our physical fitness levels with all the walking we did between hotels and session sites," stated Trelynn.
Family, Career and Community Leaders of America (FCCLA), is a dynamic and effective national student organization that helps young men and women become leaders and address important personal, family, work, and societal issues through Family and Consumer Sciences education. FCCLA has over 200,000 members and over 6,500 chapters from 50 state associations, Puerto Rico, and the Virgin Islands. The organization has involved more than ten million youth since its founding in 1945.
FCCLA: The Ultimate Leadership Experience is unique among youth organizations because its programs are planned and run by members. It is the only career and technical in-school student organization with the family as its central focus. Participation in national programs and chapter activities helps members become strong leaders in their families, careers, and communities.