Early Childhood I Students Teach at Zion Preschool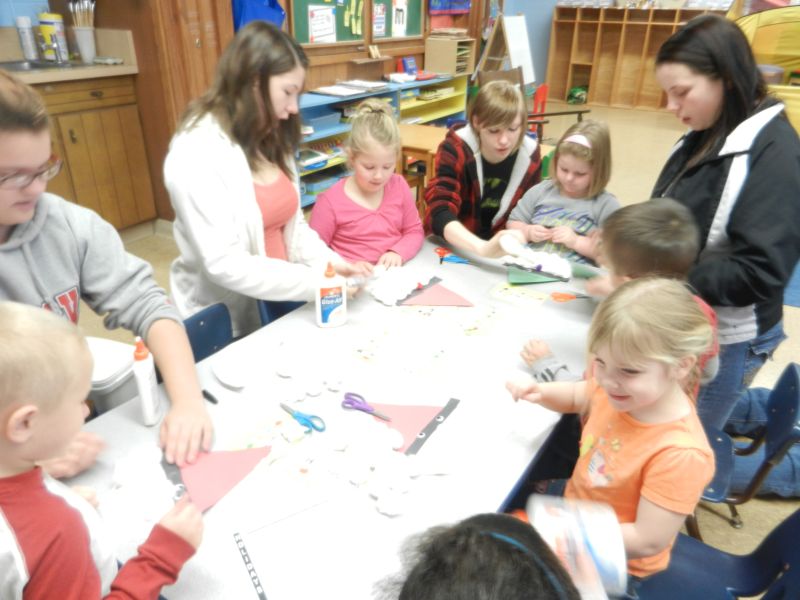 Zion Preschool Students meet math and creative arts expectations by creating a Santa Pocket with Early Childhood I Students.
Early Childhood I students had the opportunity to put into action a lesson plan they had created teaching the concepts of shapes, colors, numbers and counting. Students worked with Zion Lutheran Preschool Teacher Cindy Meyer to arrange a time to first observe her preschool classroom and then to teach a lesson.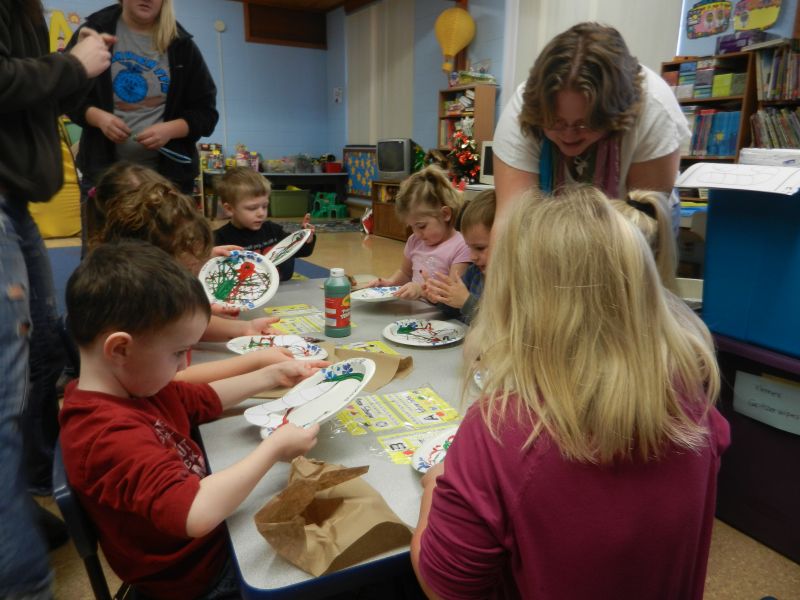 Early Childhood I students work with Preschoolers on their Candy Cane Marble Painting to reinforce creative arts expectations.
The observation day included observing the preschoolers, learning the classroom routine and current education level of the students, and also observing how a preschool classroom can be arranged. Students then returned to their Plainview High School Family and Consumer Sciences classroom, divided into two groups to create a lesson and write an official lesson plan. "When writing the lesson plan, students needed to locate the standards being taught which meant they needed to navigate through the Nebraska Department of Education website. This led them to locate the Nebraska Early Learning Guidelines for Ages 3-5," explained instructor Ronita Jacobsen. "Students didn't realize all the standards and expectations set forth by the state department…even in the area of preschool. The guidelines relate to seven domains or areas of learning and development: social and emotional development, approaches to learning, health and physical development, language and literacy development, mathematics, science and creative arts."
Through this project students discovered that educational concepts such as math could be taken to further levels than just numbers and counting when activities take place in play-based environment using hands-on materials and real-life situations. Early childhood teachers and caregivers need to be flexible and capture teachable moments to expand child learning. "This was an interesting experience. I was surprised at how far they could count and the shapes and colors that they knew already. The preschoolers had the opportunity to work on their fine motor skills by cutting on straight and curved lines while creating their projects," stated Teah Follette.