February is CTE Month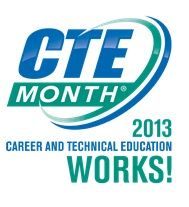 Students and faculty at Plainview will join others across the nation during the month of February to celebrate national Career and Technical Education (CTE) MonthTM. This year's theme is Career and Technical Education Works! CTE MonthTM provides CTE programs across the country an opportunity to demonstrate how CTE educates students to be college- and career- ready and prepares them for high-wage, high-demand career fields. Among the special activities scheduled are a school board presentation by CTE students sharing information about their CSO's along with special activities each week honoring FCCLA Week, FFA Week, and FEA Week. National Technical Honor Society (NTHS) members will be overseeing all events while planning their March 1st Blood Drive in collaboration with members of National Honor Society.
Life and Career Readiness Students, already having researched and presented information about a desired career, will be learning more in depth information about their desired careers by participating in a community career shadow this month. They will also be creating a portfolio with a completed job application, cover letter, resume, and two letters of recommendation for a specific career, and preparing for an interview(s) conducted by various area business owners. Students in other CTE classes are also participating in classroom projects and events that will prepare them to be career ready individuals.
"The activities planned over the next month will illustrate the rigor and relevance CTE courses offer our students," said Ronita Jacobsen, FCS Teacher at Plainview High School. "By partnering with the business community, CTE programs are investing in students' lives with the latest technology and skills that will prepare them to become successful employees as well as future leaders."
Plainview High School currently has 4 instructors offering students the following CTE Programs: Chad Kment-Agriculture, Brett Arehart-Industrial Technology (Skilled and Technical Sciences), Mary Sterkel-Business, Ronita Jacobsen-Family and Consumer Sciences, Lori Klooz-Information Technology, and Tammy Schindler-Digital Photography. Students also have the privilege of belonging to a variety of Career Student Organizations (CSO's) such as FFA, FCCLA, and FEA (Future Educators Association). Students meeting established criteria are encouraged their junior and senior years to apply for induction into the National Technical Honor Society (NTHS).
CTE encompasses 94 percent of high school students and 13 million postsecondary students in the United States and includes high schools, career centers, community and technical colleges, four-year universities and more. CTE is a major part of the solution to myriad national economic and workforce problems, such as high school dropout rates, a weakened economy, global competitiveness and massive layoffs. According to the U.S. Bureau of Labor Statistics, nearly one-third of the fastest growing occupations will require an associate's degree or a postsecondary vocational certificate. At a time when job opportunity is so critical, CTE programs in every community are ensuring students are adequately equipped with the skills to successfully enter the workforce.