FCCLA Awards Night 2013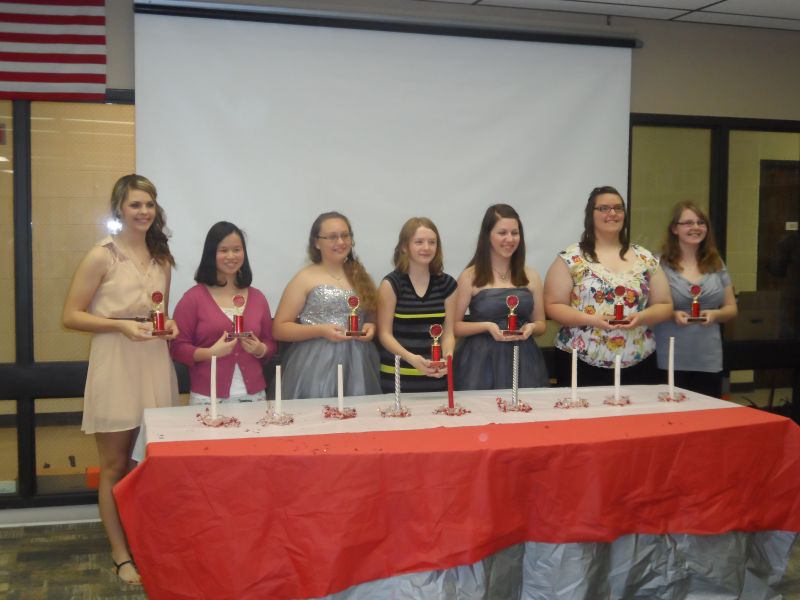 FCCLA Outstanding Members: Morgan Johnston, Natalie Lingenfelter, Kaelee VanEvery, Ashley Shaffer, Erika Neumann Heidi Nelson, and Donnie Wright
FCCLA hosted their Family Night Awards Recognition/Officer Installation at the High School Media Center on May 2, 2013. The evening began with a dessert reception and President Morgan Johnston giving the welcome. Johnston proceeded with the opening ceremony followed with the Year in Review by Natalie Lingenfelter.
Darian Bowers shared information about the District Leadership Conference and presented Caiti Ziegenbein with her Participation Certificate she received in the Creed Speaking Contest. Trelynn Morrow explained Clusters and described sessions that were attended. A presentation on the Peer Education Conference and STOP Workshop Training was given by Celine Eggerling. Members received their District STAR Competition Certificates by Kirsten Cattell Those receiving certificates were Kaelee VanEvery, Laredo Stacken, Erika Neumann, Natalie Lingenfelter, Morgan Johnston, Darian Bowers, Trelynn Morrow, and Heidi Nelson. Donnie Wright and Trelynn Morrow were presented their State STAR Certificates. Wright will move on to National STAR Competition held in Nashvile, TN this July.
Ashley Shaffer was presented certificates for becoming a State Peer Education Officer on the Student Body Team. She also will be attending the National FCCLA Conference in July for part of her training.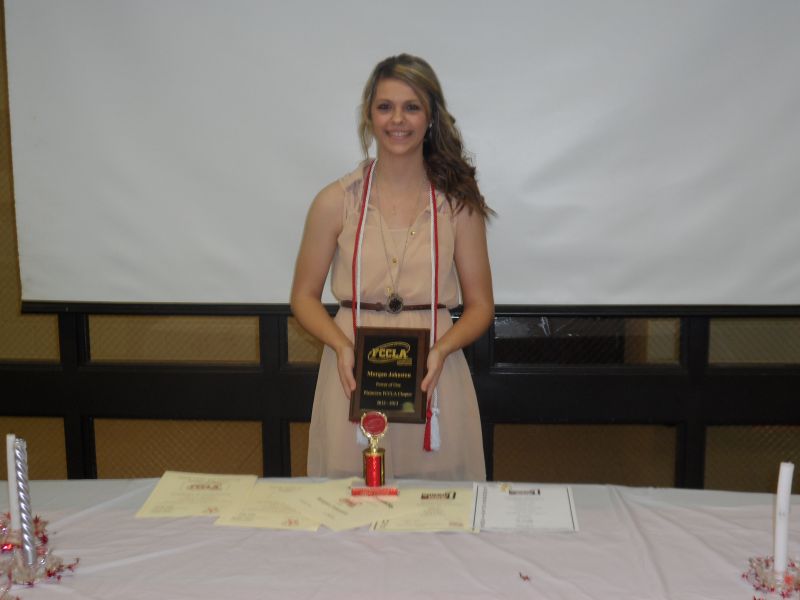 Senior Morgan Johnston received the FCCLA Honor Cord, Power of One Plaque, and numerous certificates during awards night.
Senior Morgan Johnston received the FCCLA Graduation Honor Cord. In order to receive the cord, Johnston needed to complete all five Power of One Units, compete in at least 2 STAR events, and be active in 80% of the chapter activities through her years of involvement. Johnston also received a plaque for completing all five modules of the Power of One Program in addition to receiving her chapter, state and national certificates of recognition. Others receiving recognition for completing Power of One Modules were Ashley Shaffer, Heidi, Nelson, and Natalie Lingenfelter with "A Better You"; Erika Neumann, Natlaie Lingenfelter, Heidi Nelson, and Kaelee VanEvery in "Family Ties: Ashley Shaffer and Natalie Lingenfelter in "Take the Lead".
Outstanding member awards were presented by Adviser Ronita Jacobsen and Kaelee VanEvery. Outstanding members of the year recognized were: senior, Morgan Johnston; junior Erika Neumann and Kaelee VanEvery, sophomores Heidi Nelson, Natalie Lingenfelter, Ashley Shaffer and junior high member Donnie Wright.
Members meeting the requirements to attend Summer Incentive and received certificates were: Sharyn Sheppard, Heidi Nelson, Natalie Lingenfelter, Ashley Shaffer, Kirsten Cattell, Kaelee VanEvery, Erika Neumann, Morgan Johnston, Darian Bowers, Damaris Neff, Trelynn Morrow, Kylee Jipp, Marissa Stoffell, and Donnie Wright.