FCCLA MEMBERS DEVELOP LEADERSHIP SKILLS AT NATIONAL CONFERENCE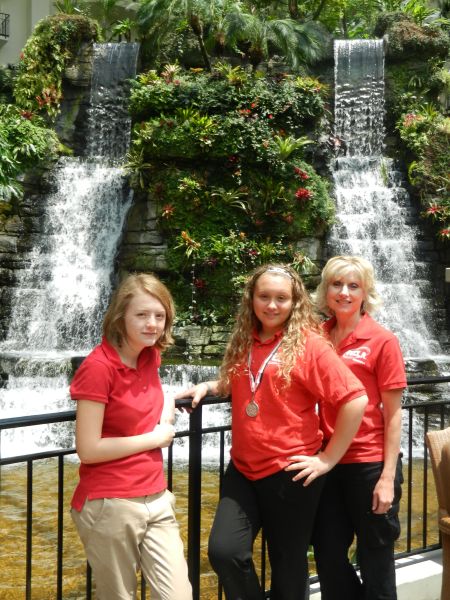 Ashley, Donnie, and Mrs. Jacobsen at the 2013 FCCLA National Leadership Conference in Nashville, TN.
More than 7,000 nationwide members, advisers, alumni, and guests of Family, Career and Community Leaders of America (FCCLA), gathered in Nashville, Tennessee, July 7-11 for the 2013 National Leadership Conference. Plainview FCCLA Members Ashley Shaffer, Donnie Write and Adviser Ronita Jacobsen were among them.
This year's student-originated theme for the annual national meeting was "Discover Your Voice". Throughout the five-day convention, participants examined and discussed several critical issues, including family, school and community violence prevention, physical as well as financial fitness, future career exploration and countless community service projects.
A number of relevant youth issues, such as the changing roles of men and women in the home and workplace, leadership, and obesity prevention were also explored at the meeting through presentations, workshops, and youth sessions. Students were also able to attend the exhibit fair, Keynote Speaker Doc Hendley, Session Speaker Mike Smith, and additional sessions on "My Life With An Eating Disorder", "March To Your Own Beat With Community Service", and "And Discover Your Voice With Social Media".
Throughout the next year Ashley will be busy presenting at the State FCCLA Fall Leadership Workshops as well as several District Leadership Conferences. She will also be part of the planning team for the State Peer Education Workshop in February where she will also present. Ashley will also be involved with the state leadership conference in April in addition to completing her duties as this year's Plainview FCCLA Chapter President.
Donnie, who will be an 8th grader at Plainview High School is the daughter of Diane Wright and received a Silver medal in Chapter Service Manual, one of 31 national STAR Events available to FCCLA students. Her medal was presented at a recognition session honoring all participants at the Gaylord Opryland Resort and Convention Center on Thursday, July 11. Approximately 3,600 students advanced from the local, regional, and state level of STAR Events to the National STAR Events.
Donnie was a participant in the Chapter Service Manual event. She used her Family and Consumer Sciences related occupation skills to create a manual displaying the Plainview FCCLA's Chapter Service Project: Quilts for Kids.
"I decided to organize the chapter service project this year by working with the Lincoln Chapter of Quilts for Kids," Donnie said, "because I feel that when kids are in the hospital away from home and in the hospital it can be scary. A quilt made especially for them would help to make the room more comfortable and let them know others are thinking of them. This project taught me a great deal about organizing and presenting information to others that youth can make a difference."
FCCLA's STAR Events are based on the belief that every student is a winner. Competition, evaluation, and recognition all stress cooperation as the basis of success. Both youth and adults work together to manage the events and serve as evaluators of the participants.
Throughout the year, FCCLA members tackle issues such as teen violence prevention, traffic safety, family issues, career exploration, and much more. FCCLA programs and competitions enrich student learning, improve self-esteem, and serve students with a range of ability levels, economic situations, and cultural influences.
At the conference a donation of $85,639.88 was presented to Share Our Strength from National FCCLA to fight childhood hunger. In addition, over $2,000 in school supplies was donated to the LP PENCIL Box. These were national service projects members had participated in throughout the year.
Family, Career and Community Leaders of America (FCCLA), is a dynamic and effective national student organization that helps young men and women become leaders and address important personal, family, work, and societal issues through Family and Consumer Sciences education. FCCLA has 200,000 members and over 5,500 chapters from 50 state associations, Puerto Rico, and the Virgin Islands. The organization has involved more than ten million youth since its founding in 1945.
FCCLA: The Ultimate Leadership Experience is unique among youth organizations because its programs are planned and run by members. It is the only career and technical in-school student organization with the family as its central focus. Participation in national programs and chapter activities helps members become strong leaders in their families, careers, and communities.