FCCLA Attends District Leadership Conference
This past week, sixteen members of the Plainview FCCLA chapter traveled to Northeast Community College for the District 8 Leadership Conference. The theme for this year's conference was "LEGO and Let FCCLA Build Your Future!"
The day started off with by the opening ceremony and introduction of the district officers. The District Officer Installation was then held with Ashlynn Ickler being installed. The keynote speaker for the day was Jackie Freeman, 2017 Boston Marathon Runner. She currently works as the school nurse for Bloomfield, Crofton, and Hartington-Newcastle Schools and is also a cross country coach. Her message was based on goal-setting, overcoming obstacles, positive thinking and surrounding yourself with coaches who will continue to push you towards your goals.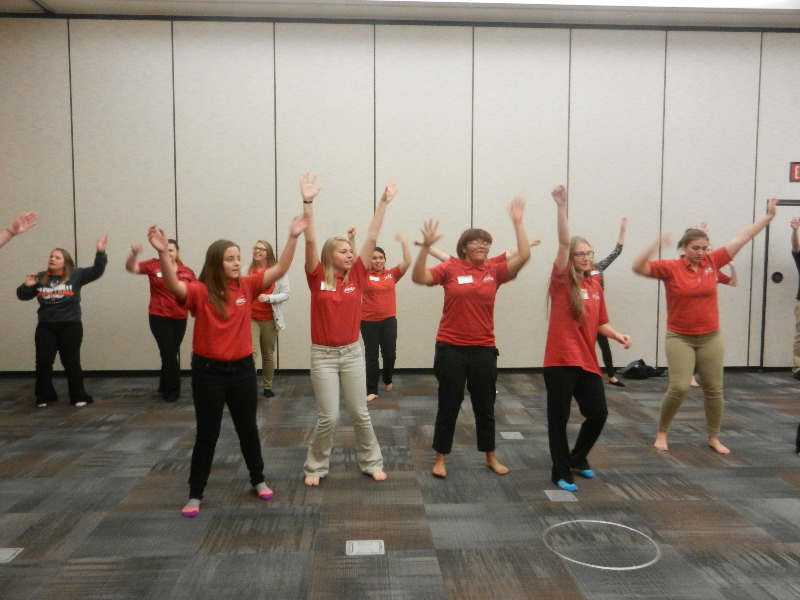 Members attend the Jazzercise session. A great workout while learning about fitness and entrepreneurship.
Following the keynote, there were several breakout sessions members could attend: Culinary by Central Community College; Jazzercise from Plainview with Jackquie King and Jodi; Bright Horizons on Domestic Violence; 719 Fitness by Seth and Shelby Snodgrass on Nutrition and Body Building; FCCLA State Financial Fitness Peer Education Officers Carolyn and Sydney on Identity Theft, FCCLA State Officer William Wilton; and FCCLA State Family and Study Body Peer Education Officers Truman, Taylor, and Kaitlin. Tours of the Media Arts College and the Nursing College were also made available to students. Jessica Stark's favorite session was on Identify Theft, "…it told me more facts on how fast people can hack other people's identity!". And, another student added, "There's more to financial fitness than earning and spending money. There's also protecting it. Ashlynn Ickler liked the session from Bright Horizons as it "…showed me how to maintain a healthy relationship.". Several people like the session they referred to as the "body building session" from the 719 Fitness Center in Neligh as it showed them how to lift right, be safe, and how to eat right. Aaliyah Brown summed up the Jazzercise session for everyone who attended by saying " ….even though I sweated buckets I could taste the fun in my sweat! It was great and I want to go back."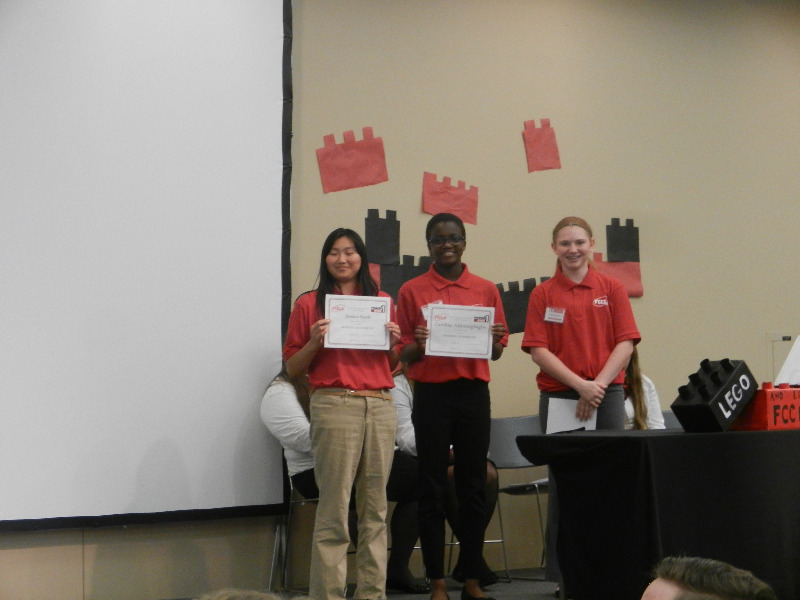 Jessica, Caroine, and Kaitlyn receive their Power of One Awards. Not Pictured Destiny Pollard and Ashlynn Ickler
During the Closing Ceremony, Power of One Award Certificates were presented to the following Plainview members for their work this past year: Jessica Stark, Destiny Pollard, Kaitlyn Doughtery, Caroline Akkinnigbagbe each received the Working on Working Award; Ashlyn Ickler received the Take the Lead Award.
During lunch, members participated in the bucket auction and FCCLA Knowledge Bowl. Participating in the Knowledge Bowl for Plainview were: Ashlynn Ickler, Jessica Stark, Aaliyah Brown, Caroline Akkinnigbagbe and Jacob Ziegenbein. The money raised from the bucket auction was donated to next year's state officers and national STAR participants to assist with travel expenses to National Conference in July.
Members also contributed to the Orphan Grain Train Donation of School Supplies. Backpacks, notebooks, markers, erasers, pencils, etc. were donated by members from all schools. At the end of the day, the collected items were delivered to the Orphan Grain Train in Norfolk. Ending the day was the drawing of door prizes/baskets and announcements.