FCCLA Members Qualify for State STAR
FCCLA Members Jesica Schaefer, Destiny Pollard, Aaliyah Brown, Ashlynn Ickler, Caroline Akinnigbagbe, Devon Tunender, and Logan Jacobsen traveled to Wayne State College, Wednesday, January 17, for the District 8 FCCLA STAR (Students Taking Action with Recognition) Competition. Three returned as state qualifiers: Jesica Schaefer, Aaliyah Brown, and Logan Jacobsen.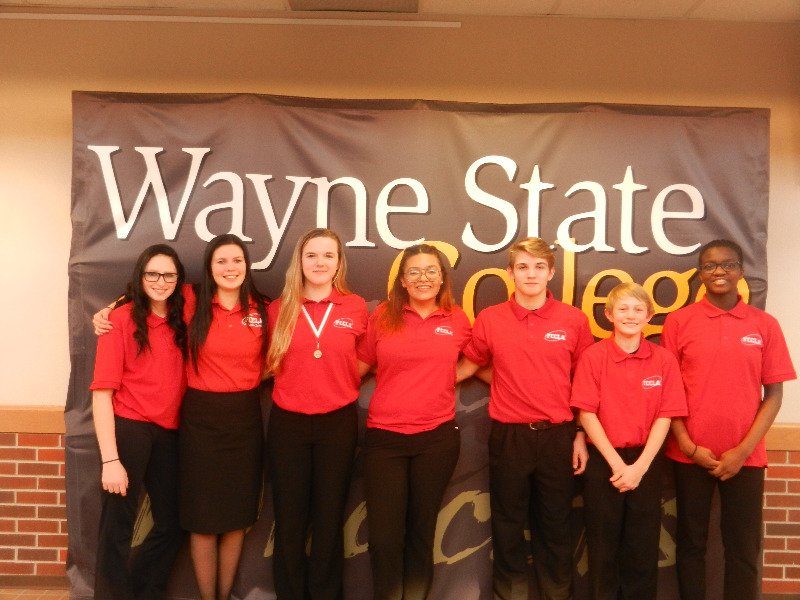 Those competing at the FCCLA District 8 STAR Competition were Destiny, Ashlynn, Jesica, Aaliyah Devon, Logan, and Caroline.
To advance to the state competition, members must place 1st or 2nd in their event while receiving scores within a specified range. The State FCCLA STAR Competition will be held in Lincoln, April 8-10, in conjunction with the FCCLA State Conference.
Jesica Schaefer received 2nd place and a silver medal in the Life Event Planning. As part of her project she was required to create a portfolio of a trip she is planning and then give a 10-min. presentation explaining her financial decision-making process. The purpose of this event is to demonstrate her skills at managing the financial costs of planning an upcoming event.
Aaliyah Brown competed in the Recycle Redesign Event-Sr. Division. She received 2nd place, earning a silver medal. She was required to create a display board and give a presentation on how she recycled an outdated dress into a new top for her to wear.
Logan Jacobsen received a gold medal and 2nd place with his project in the Recycle Redesign-Jr. Division. He also was required to create a display board and give a presentation on how he took pallet boards and recycled hunting items to create a hunting themed shelf complete with deer antlers and his hunting keepsakes.
Also competing at districts were Ashlynn Ickler and Caroline A. in Chapter Service Display; and Destiny Pollard and Devon Tunender in Focus on Children. Both groups were required to recreate a display showcasing their projects and then give a 10-minute presentation, not only explaining their projects, but also how it relates to the National FCS Standards and the FCCLA Standards and Purposes. They received participation recognition.
"It was exciting to see 3 of the 5 events we entered return as state qualifiers," stated Jacobsen. "These students have worked very hard on their projects, putting in lots of hours and practice time. The judges gave them excellent suggestions and with 2 months till state, plans for improvements are already underway."
STAR Events (Students Taking Action with Recognition) recognize members for proficiency and achievement in chapter and individual projects, leadership skills, and career preparation. STAR Events offer individual skill development and application of learning through cooperative, individualized, and competitive activities. Competitive events promote the FCCLA Mission to focus on the multiple roles of family member, wage earner, and community leader. Each event and activity is designed to help members develop specific lifetime skills in character development, creative and critical thinking, interpersonal communication, practical knowledge, and career preparation. Competitive events provide additional opportunities to showcase college and career-ready knowledge, skills and abilities; promote the FCCLA chapter as an integral part of the of the Family and Consumer Sciences education program; and to connect with peers and the community.