FCCLA Jazzercise For Life Raises $500
An ice storm couldn't stop Jazzercise for Life! Close to 40 people attended the FCCLA Jazzercise For Life Event held Saturday, March 17, at the Plainview Jazzercise Center. People of all ages and gender attended the event that raised $500 for the Norfolk Area Relay For Life.
Different this year was having the event at the Jazzercise Center and offering two different times for people to attend. One session was held at 7 am with 2 instructors, Katherine and Michele, and a second session was held at 8:30 with five instructors Jacquie, Vanessa, Bonnie, Courtney, and Melissa. Plainview Jazzercise Instructors had amazing music and led everyone through the Dance Mixx class complete with aerobic and strength training.
Plainview Jazzercise Center provided all who attended with a Jazzercise water bottle and an opportunity for new persons to join this weekend with a special price. FCCLA members gave provided can coolers, bambams, pens, notepads, and magnets…all compliments of Relay For Life. Cupcakes were available for purchase for a dollar and luminary bags were also available for an additional donation. The Luminary bags will line the track at the Norfolk Area Relay for Life which is Friday, June 1, at the Tahazouka Park in Norfolk starting at 6 pm. The bags are still available with a $10 donation by contacting Ronita Jacobsen at the High School.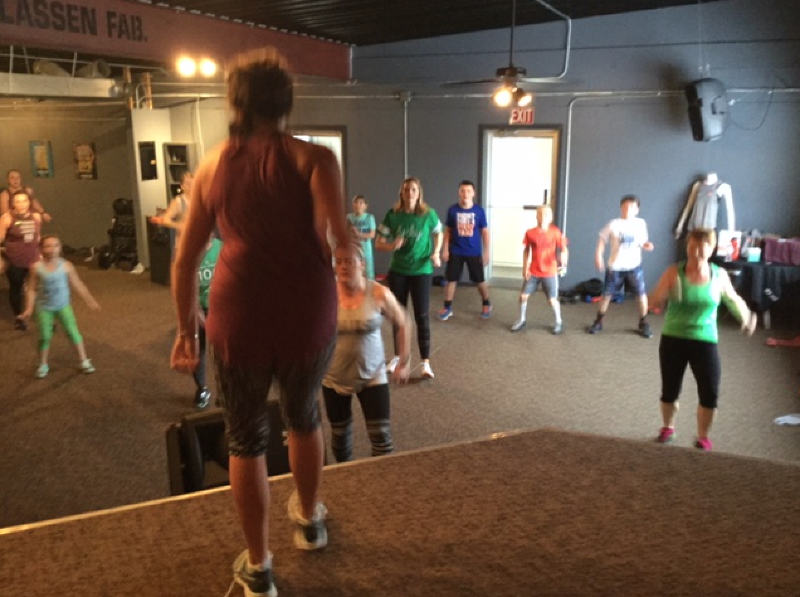 "This was a fun way to raise money for Relay for Life. Thanks to Jacquie and everyone at Plainview Jazzercise for making this possible!" stated FCCLA Adviser Ronita Jacobsen. "What an awesome way to spend a Saturday morning—great music, exercise, friends, and fun! I especially enjoyed seeing the elementary and junior high students there. They seemed to have a great time! Thanks to everyone for coming out and supporting Relay for Life."