FCCLA Holds STEP ONE Meeting
Learning more about FCCLA through the STEP ONE Project was the goal of the Aug. 28th FCCLA Meeting which 18 members attended. Members were divided into 4 teams, given laptops, use of their use smart phones, and the FCCLA national website. Then, a challenging…and very competitive...FCCLA Jeopardy game began. Candy prizes for correct answers were given throughout the game to encourage members to continue searching the website for correct answers to questions. The winning team at the end of the night left with cinch bags and lanyards.
At the meeting portion of the night, the Fall Leadership Conference to be held in Kearney September 15-16, was discussed along with which members will be attending. While at the conference members will select from three tracks: New Member Track, Chapter Leader, or the Officer Track-for those wanting to run for a state office. With 11 new members this would be an excellent conference for them to attend.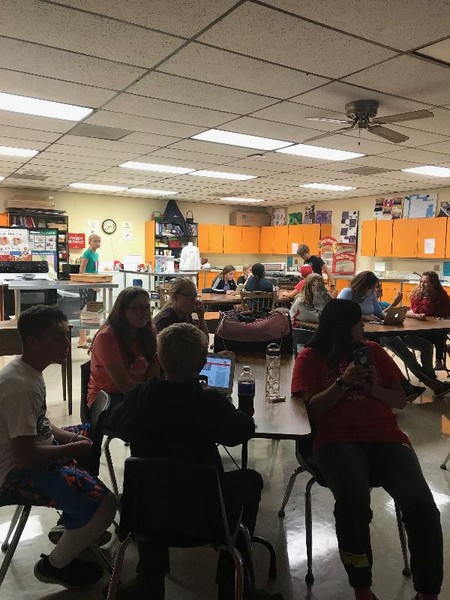 Members signed up to run the Otis cookies sales at the September 13th volleyball game along with Sept. 27th concession stand. Otis cookies will be sold that night also.
The National Clusters Conference in Louisville, KY, November 9-11 was discussed, and names written down for those interested in attending. Down Payment to attend is due by October 1st.
Members were reminded to turn in their fundraising order forms and money when returning from Labor Day break and to pay their dues of $17 by Sept. 7. The next meeting will be September 24th at 6:15 pm to sign up for STAR projects and prepare for District Leadership Conference in October.