Stark Medals at State FCCLA Conference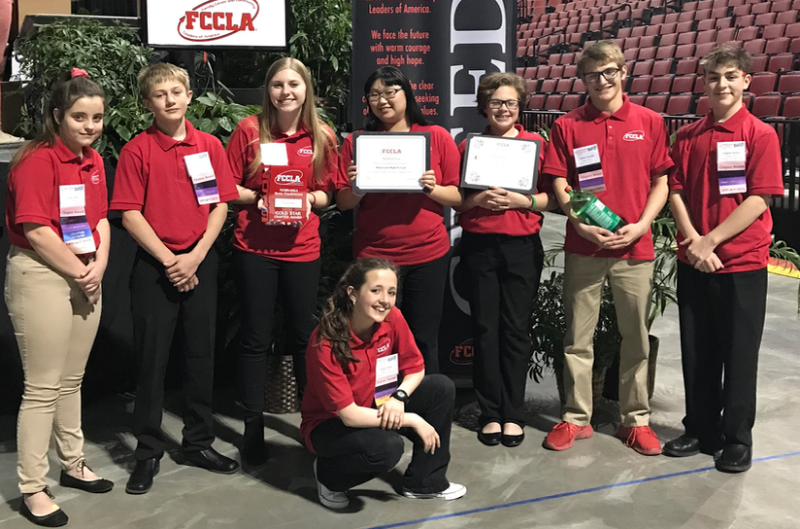 FCCLA Members with Gold Chapter Award, 7 Up Membership Award, and Best FCCLA Friend Award, and Power of One Award.
"Breaking Barriers" was the FCCLA 2019 State Leadership Conference theme in which eight members from Plainview attended April 7-9. Attending from Plainview were Jessica Stark, Makenna Buss, Jessica Booth, Devon Tunender, Logan Jacobsen, Leighton Medina, Abby White, and Roni Prewitt, along with adviser Ronita Jacobsen and student teacher Cali Jorgensen.
Conference began Sunday with registration and members donating personal care products as part of the FCCLA State Officer Outreach Project. All of the collected items were donated to the Friendship Home in Lincoln, domestic violence safe shelter and more. A Parade of Chapters was held during Opening Session. Jessica Stark carried the Plainview chapter sign across the stage in representation. The keynote speaker was Logan Weber and his message was "Overcoming Life's Goliaths". He spoke how we all have "Goliaths"-barriers, challenges, and obstacles blocking the path to our goals. Rather than running from them in fear, or behaving as if they don't exist, he reveals how to face down your Goliaths by shifting your vision from the obstacles in your way to the rewards awaiting you in the future. He focused his presentation on the importance of shifting your vision, how to deal with setbacks, the power of attitude, and coming together as a team to accomplish great things.
Monday was a busy day as members were competing in STAR Competitions, participating in service projects, and attending sessions and trainings. Jessica Stark had her STAR Competitors orientation at 8 am and then competed in her STAR Food Innovations Event at 9:50 am. STAR Results and Awards were announced Tuesday morning during the STAR Awards Session. Jessica received a silver medal for her Food Innovation Project Sweet 'N Salty Bars. "I am very proud of Jessica Stark. She did a great job at state by increasing her score from districts and receiving her silver medal. She reached the goals she set for herself. With 12 competitors, and some with experience at nationals in this event, competition was tough." stated adviser Ronita Jacobsen.
Members not in STAR were busy with service projects and tours on Monday. Abby White participated in the Children's Advocacy Service Project. Following a tour and learning about the Child Advocacy Center, she spent a couple of hours along with other members from across the state organizing and cleaning. "It was interesting to see where and how children are interviewed and the process that happens here. Sad too. They have nice playrooms for the kids to help keep them relaxed and comfortable." Roni Prewitt and Ms. Jorgensen were able to tour Memorial Stadium. Logan Jacobsen, Devon Tunender, Makenna Buss, Jessica Booth, and Leighton Medina all had the opportunity to tour Hudl. "Hudl was really cool! It has to be the best working environment ever! You'd have to see it to believe it. They even have basketball hoops. You can go outside to work. They feed you at work. You can sit wherever work, even in bleachers." These tour and services experiences were the highlights of the trip for the students.
Monday morning all members took advantage of the Opportunity and Career Fair to visited with college representatives and organizations. While at the fair, a variety of opportunities were available for students as they learned about nutrition as they rode the blender bike to make a smoothie, wore virtual reality goggles to demonstrate the influence of distracted driving, visited with college representatives, and discovered relationship training programs, etc.
Next members attended the session Revolution: Center for Survivors. A play on dating violence was presented. This was followed by a question answer session where actors remained in character as a discussion was held with audience members asking questions of them about their actions and statements in the play. Then, a discussion was held on how to get out of an abusive relationship and where to go to for help. That afternoon, members also attended a breakout session titled Personal Self-Defense-Learn to Break Barriers (Gold Star Martial Arts). Here they learned and practiced self-defense moves. They were also provided information on how to be safe and how to remain aware at all times. They also attended the McKenna's Rae of Hope Foundations: Preventing Teen Suicide by Fostering Awareness, Resilience and Social Change. Here they learned about how to be kind to each other in order to foster others self-esteem. They were encouraged to include others in their activities and celebrate with others an any success no matter how small.
Later that day, Jessica Booth, next year's president, represented the chapter as Voting Delegate. Her responsibilities included attending the Voting Delegate Session, hearing State Officer Candidate speeches, and watching the candidates complete a "Fishbowl Activity". She was responsible for casting the chapter's ballots during that evening's Business and Recognition Session.
Abby White, next year's district officer, attended the District Officer Meeting and the District Officer Training. During these meetings, she was informed of the chapter district representative's responsibilities and collaborated with others on ideas for the District Leadership Conference to be held October 23rd. Abby will run for a specific district office at the District 8 Officer Meeting, which will be held in May at Pierce.
During Monday night's Award's Session, Jessica Stark was awarded the Power of One Certificate for completing all five Power of One Modules. She will also be recognized for this achievement at the National FCCLA Conference this summer in Anaheim, CA. The Plainview Chapter was awarded the Chapter Award-Gold Star Plaque, which is the highest rating available for chapters. The award reflects FCCLA members' Program of Work for the current school year. To earn this award, members set realistic goals for themselves and conduct a balanced chapter program of work that is related to the family and consumer sciences program. The chapter had 12 specific tasks they needed to complete and document in the following areas: Membership, Leadership, Competitive Events/Programs, and Promoting FCCLA.
The chapter also received the 7 Up Membership Award for recruiting 7 or more new members. They also received the Best FCCLA Friend Chapter Award. They were also recognized for the work they completed in Feed Nebraska, by collecting food for the Plainview Food Pantry. Adviser Ronita Jacobsen was recognized as being a member of the FCCLA Board of Directors.