NTHS Induction
National Technical Honor Society (NTHS) inducts 5 members into its chapter this year, although the induction ceremony is unable to be held. The Plainview High School NTHS Chapter recognizes and honors students for outstanding achievement in their career and technical education programs. This recognition is achieved through a nomination, evaluation, and selection process based upon exemplary citizenship, leadership, workmanship, and scholarship. The highest recognition bestowed upon career and technical education students is through membership in the National Technical Honor Society.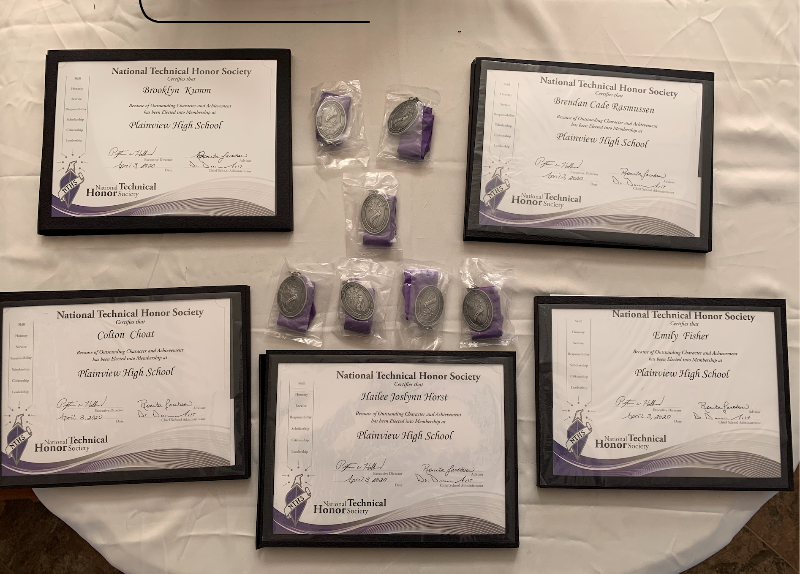 All inductees would have participated in the candle ceremony, led by current members, which describes the seven membership attributes. The induction ceremony would have followed. Being inducted this year is senior Brendan Rasmussen and juniors Brooklyn Kumm, Hailiee Horst , Emily Fischer, and Colton Choat. Members received a portfolio which includes a certificate of membership, membership card and pin, tassel, NTHS sticker emblem, and a diploma seal.
Seniors receiving their NTHS medallions, which will be worn at graduation, are Becca Kment, Carissa Wacker, Caroline Akinnigbagbe, Alexa Meyer, John Schlote, and Jacob Hoffmann, and Brendan Rasmussen.