---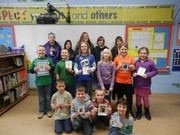 FCS Students and 2nd-4th Grade Zion Lutheran Students with the spelling books they created using Scribble Press.
---
FCS Students Use iPads to Teach Zion Students Spelling
Mrs. Jessica Sauser's 2-4 grade students at Zion Lutheran Elementary had the opportunity this past week to work on their spelling words along with their reading and writing skills in a new way. Natalie Lingenfelter, with the assistance of Plainview High School FCS students, instructed students in the use of iPads and the app Scribble Press to have students create books using their spelling words.
As part of her FCCLA STAR project titled "Teach and Train", Natalie Lingenfelter (FCCLA and FEA Member) has spent the last few months researching a career in elementary education, observing classroom instruction, and interviewing elementary teachers. The major portion of her project included writing a lesson plan followed by the teaching of that lesson.
---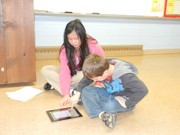 Natalie Lingenfelter instructing one of the students on the use of the iPad App Scribble Press.
---
The lesson plan selected had students use their spelling words to create a book. Lingenfelter worked with students the day of her teach in practicing their spelling words and then, using the iPad and App "Scribble Press", had students write sentences using their spelling words to create a book. Students were able to insert pictures, take pictures and even draw pictures to illustrate their story. The students' books were printed and then returned to the students. Students then had the opportunity to read their books aloud and take turns in reading all books created that day. "Students had a lot of fun learning their words and writing their sentences. They were very creative in their illustrations, " stated Lingenfelter.
Natalie will complete her Teach and Train Portfolio and then prepare for the FCCLA District 8 STAR Competition held January 23, 2013 at Wayne State College. At districts Natalie will present her portfolio to the judges, give a 10-minute presentation explaining her portfolio and what she has learned, and then be interviewed by the judges about her project. All FCCLA members will be presenting their STAR projects January 17th at 7:00 pm at the high school. Parents of FCCLA members and the community are encouraged to attend the presentations and see the variety of projects members have completed so far this year.