---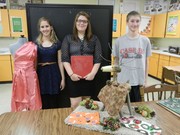 Trelynn Morrow, Kirsten Cattell, and Chance Jacobsen with their STAR projects.
---
FCCLA Prepares for STAR Competition
Eight FCCLA members will be competing at the District 8 FCCLA STAR (Students Taking Action with Recognition) Competition held at Wayne State College January 22. Students competing this year are Trelynn Morow in Fashion Design, Kirsten Cattell in Job Interview, Chance Jacobsen in Recycle Redesign, Heidi Nelson in Family Challenges and Issues. Ashley Shaffer in Illustrated Talk, Paige Bearinger in Interpersonal Communication, Natalie Lingenfelter in Chapter Review, and Sharyn Sheppard in Parlimentary Procedure Written Test. Students must recieve the highest score in their event in order to advance to state as only per event go on. This year students' STAR events consisted of them either completing a project followed by a 10 minute presentation with displays/visual aids; presenting a 10 minute speech on a selected topic; presenting a 5 minute speech on a selected topic followed up with a resolution speech on an impromptu case study; creating a career portfolio followed by a job interview; creating a scrapbook of chatper events with a ten minute informative speech; and taking a knowledge test. Many of these students have been working on their projects since August and hope to see their efforts rewarded by earning a trip to the state competition.