---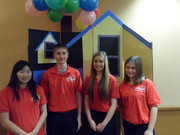 Jessica Stark, Chance Jacobsen, Autumn Ickler, Ashlynn Ickler
---
FCCLA Attends Peer Education Conference
The Plainview FCCLA chapter recently attended the annual State FCCLA Peer Retreat held in Kearney, Nebraska on Monday, February 23rd. There were over 300 FCCLA members and advisers from over 40 chapters from across the state in attendance. Autumn Ickler, Ashlynn, Ickler, Chance Jacobsen, and Jessica Stark, and Adviser Ronita Jacobsen attended from the Plainview chapter.
The theme for the day was "Soar Up With Peer Education". The day began with introductions of the current Peer Officers who gave a brief overview of each National Program they represent. Introductions of the peer team finalists for the coming year recognized those students who will be vying for the three teams in April at State Conference.
---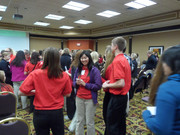 Students work on networking skills during the keynote presentation.
---
The keynote speaker was Dr. Joanne Owens. Her session "Bring Out Your Inner Scout" had students up, energized, and involved from the beginning. Dr. Owens was an energetic vibrate speaker who stressed the importance of setting goals and networking effectively. She informed students that there is no more "sit and get" in school. Every 11-17 minutes something must change in instruction (teaching) in order for the dendrites in our brain to become active and for students to learn. Students remember 80% of what they are taught and 95% by teaching someone else. Owens gave the students several inspirational bits of wisdom throughout the presentation such as "the more you learn the more you earn", "find the cause and then the action", "forget the problem and think possibilities", and "be a goal setter...write it down and have someone witness it". Autumn Ickler said, "The speaker was inspiring. She had us looking on the bright side of things."
The breakout sessions included presentations by the Peer Education team, Sally Bernard, and Bennett's Taekwondo Academy. Sally Bernard, from the Advantage Financial Group, presented "Fund Your Dreams". Bernard began by stating, "Research found employees spend eight hours of each 40 hour week thinking about their finances." Her presentation focused on tips for being financially fit, using credit appropriately, and credit scores. Her real life examples about poor money management amazed student. Key points from her presentation included: "If you can't make a payment, make an arrangement." "Use a check register and check your account so you can be aware of fraudulent charges on your account and know how much money you actually have". She stated that typical credit cards now have a 36% interest rate. She also reminded students to have an Emergency Fund and what it should be used for. She also told them to save for retirement early by putting money away even if it is only 25-50 dollars a month. She encouraged students to avoid "ugly debt" which refers to owing money to your family and friends. This, she said, is a fast way to ruin friend and family relationships.
---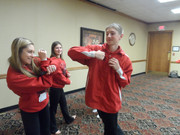 FCCLA members practicing some of the techniques they learned in the Taekwondo session.
---
During Bennett's Taekwondo Academy session "Earn Your Martial Arts Badge", students had the opportunity to learn the basics of Taekwondo and materials that can be purchased for self-defense. The speaker stressed that tools purchased for safety all require training to be used safely and effectively. He gave students tips on being smart and safe in order to prevent situations from occurring. He also demonstrated techniques to use to get out physical holds.
The presentation by the Peer Education Teams of Student Body, Fianancial Fitness, and Families First helped students to learn more about the Peer Education Teams and their specific programs. Following the closing session, names were drawn for door prizes. Receiving door prizes from Plainview were Jessica Stark, Autumn Ickler, and Ashlynn Ickler.