---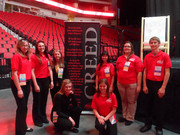 FCCLA Members at Opening General Session
---
FCCLA Earns Gold Status at State Conference
FCCLA at State Leadership Conference
By Natalie Lingenfelter, Public Relations
"Toward New Horizons" was the FCCLA 2015 State Leadership Conference theme in which eight members from Plainview attended. Attending from Plainview were Ashley Shaffer, Natalie Lingenfelter, Heidi Nelson, Jadin Doerr, Caiti Ziegenbein, Autumn Ickler, Chance Jacobsen, and Ashlynn Ickler along with adviser Ronita Jacobsen.
Ashley Shaffer represented the chapter in the President's Parade onstage during Opening Session on Sunday. Keynote Speaker Kevin Wanzer kicked off the conference with his presentation "Be A.L.O.H.A: The formula for service, leadership and inspiration". In this fast paced, hilarious, yet touching keynote address, Wanzer recalled and reinforced essential life and love lessons. His message ce-lei-brates family and the very special education we can receive each day by working with and loving those around us. He reminded everyone that success in life ultimately comes down to finding joy in everyday situations and the importance of who and what we choose to love.
---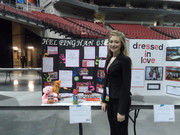 Autumn set up for her Chapter Service Project Display Presentation.
---
Monday was a busy day as members were competing in STAR Competitions, participating in service projects and tours, or attending sessions and trainings. State STAR Competitors, Ashley Shaffer and Autumn Ickler, were busy competing. Shaffer competed in Job Interview and Ickler competed in Chapter Service Display. Shaffer advanced to finals in Job Interview, confirming a 1-4
th
place ranking. STAR awards were announced Tuesday morning during STAR Awards Session. Ashley Shaffer was awarded a gold medal and received 3
rd
place. Autumn Ickler received a silver medal for her 4
th
place finish.
Natalie Lingenfelter and Jadin Doerr went to the Open Door Mission and participated in a service project. They had the opportunity to assist in organizing and sorting items that were donated from the community.
Heidi Nelson and Caiti Ziegenbein participated in a Hospitality Tour. They had the opportunity to tour the Hilton Garden Hotel. While there they walked around the hotel looking at the rooms, pool, meeting rooms, and the kitchen.
Other members attended the session "I'm Awesome. Because I Decide.", which was presented by Nicholas Houston Andrews. He shared his personal story of acceptance, and how that decision made him Awesome. Another session attended was "Healthy Relationships" presented by Stacy Lichtenberg and Ashly Bunn. They spoke on how to make appropriate decisions about what's healthy vs. unhealthy in any relationship you might find yourself in. "I wonder if we could…? Donate?" was presented by Milton and Janis Bemis. 30 years ago tragedy brought their family from Nebraska together with a family in Arizona through a life saving transplant. The Bemis' shared their story of how the loss of their son saved the life of a then 21-month-old girl.
Caiti Ziegenbien represented the chapter as Voting Delegate as she is the 2015-2016 FCCLA Chapter President. Her responsibilities included attending the Voting Delegate Session, hearing State Officer Candidate speeches, and watching the candidates complete a "Fishbowl Activity" followed by casting the chapter's ballots. Jadin Doerr, 2015-2016 District Officer, attended the District Officer Meetings and the District Officer Training. During these meetings she was informed of her duties as a district officer and collaborated with others on ideas for District Leadership Conference Speakers. She will run for her specific district office at the District 8 Officer Meeting, which will be held in May.
---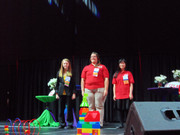 Ashley, Heidi, and Natalie receiving the Power of One Awards.
---
During Monday night's Business and Recognition Session Heidi Nelson, Ashley Shaffer, and Natalie Lingenfelter were recognized and received Power of One pins and certificates for completing all 5 Power of One Units. They will receive additional recognition at the National FCCLA Conference in Washington DC this summer. Plainview Chapter was awarded the Chapter Award-Gold Star Plaque, highest rating for chapters. The award reflects FCCLA members' Program of Work for the 2014-2015 school year. To earn this award, members set realistic goals for themselves and conduct a balanced chapter program of work that is related to the family and consumer sciences program. The chapter had 12 specific tasks they needed to complete and document in the following areas: Membership, Leadership, Competitive Events/Programs, and Promoting FCCLA. At the conference, Jacobsen was also recognized with the ACE (Adviser Committed to Excellence) Award.