---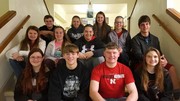 Battle Creek Medalists
---
SPEECH TEAM: A young squad who is working hard
The Plainview Speech Team earned fourth place as a team (out of 15 teams and over 360 competitors) at the Battle Creek Invite on Saturday, Feb. 20th, getting edged out of a top 3 finish by just a few points.
Twelve students brought home some hardware this week, and some placed in both of their events. Austin Choat was a "dual" medalist—in both his individual event (serious prose) and in the duet with his brother, Nathan. JV members Jake Lingenfelter, Brady Scott, Grace Hoffman, and Kylie Mosel also brought home two medals each.
Medalists this week included the following:
2nd place: Elle Kment, varsity informative speaking
3rd place: Brittani Wacker, varsity persuasive; Nikki Mosel, varsity informative; and in JV competition, Andrea Haase in humorous prose and Jake Lingenfelter in entertainment.
4th place: Austin Choat, varsity serious prose; Kylie Mosel, JV entertainment, and the JV OID team of Kylie, Jade Rickard, Grace Hoffman, Jake Lingenfelter, and Brady Scott.
5th place: Austin and Nathan Choat in varsity duet acting
6th place: Jordyn Anderson in varsity persuasive; Grace Hoffman in JV humorous prose; and Brady Scott in JV informative
---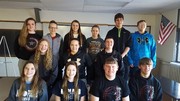 Wausa Medalists
---
Last week
, the team had a solid day of performances against some very tough, seasoned competition at the Wausa Meet.
Earning the gold there were brothers Nathan and Austin Choat, in varsity duet acting and Kylie Mosel in novice entertainment.
Other medal winners included the following;
4th place—Nikki Mosel, Varsity Inform; Matthew Bonta, Varsity Persuasive
5th place—Autumn Ickler, Varsity Serious Prose; Jake Lingenfelter, Brady Scott, Grace Hoffman, Kylie Mosel, and Jade Rickard
6th place—Morgyn Christisansen, Varsity Entertainment; Jordyn Anderson, varsity Persuasive; Grace Hoffman, novice humorous prose; and Jesica Schaefer, novice serious prose.
The team's next meets are on consecutive days: Friday and Saturday. The Lutheran High Northeast on Feb. 26th begins at 8:00 AM, and the Lewis and Clark Conference meet –with 17 schools competing—starts at 9:00 AM on Saturday in Wakefield. Only two entries from each school are allowed in each event for Conference competition.
A reminder to anyone who would like to see the students perform, but can't make it to one of the meets. Everyone is invited to the Open House event, which is scheduled for Tuesday, March 8th at 6:30 pm at the high school.