---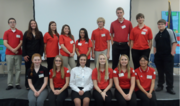 2016-2017 FCCLA Chapter (Jadin Doerr not present)
---
FCCLA at District Leadership Conference
FCCLA Attends District Conference
This past week, the Plainview FCCLA chapter traveled to Northeast Community College for the District 8 Leadership Conference. The theme for this year's conference was "Sea Yourself Into FCCLA."
The day started off with by the opening ceremony and introduction of the district officers. The District Officer Installation was then held with Autumn Ickler being installed. The keynote speaker for the day was DeMoine Adams, a former UNL 3-year starting Blackshirt defensive end who has a master's degree in Educational Psychology. He is currently pursuing his doctorate degree while working with the Teammates Mentoring Program and is a motivational speaker and consultant throughout the Midwest. DeMoine's motto in life is: "Once you see where you're going, then everything you do must correspond with where you're going." He reminded students about the impact they make on others without knowing it and to be a positive leader and role model to others.
Following the keynote speaker the traditional badge exchange "meet and greet" was held. Each chapter brought a little gift to share with members from surrounding chapters as they introduced themselves. This was one of many ways members were able to meet those from area chapters.
---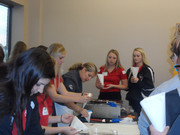 Devan Solomon and Britni Shaefer wait in line to fill pastry bags with chocolate.
---
There were several breakout sessions members could attend including Culinary by Central Community College; Shaken Baby Syndrome-presented by Jill Junk, mother of infant victim, Nutrition by Brad Averill, FCCLA Programs by Cole Martienz, and Domestic Violence by Jamie Hoefer. Tours of the Broadcasting classrooms and studios along with tours of the Nursing College were also made available to students. Student comments varied concerning their favorite parts of the sessions: "messing with the mannequins during the nursing college tour"-Sarah Watson; "learned how to make a pastry cone and write my name elegantly in chocolate"-Devan Solomon; "best and saddest was learning about Shaken Baby Syndrome and much damage it causes the brain"-Lexi Huigens, Katilynn Doughtry, Jessica Stark; and Alex Hader- "seeing and hearing how the broadcast center and classes worked".
The creed speaking competition, in which a freshman from each school memorizes the creed and gives a speech explaining their interpretation of the creed, was held during the first breakout session. Representing Plainview as Creed Speaker was Ashlynn Ickler. She was presented a certificate of participation during the closing session.
---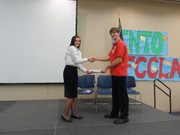 District Officer Autumn Ickler presents Thomas Morrow with his Power of One Certificate
---
During lunch, members participated in the bucket auction and photo booth. The money raised from the bucket auction was donated to next year's state officers and national STAR participants to assist with travel expenses to National Conference in July. The money raised from the photo booth was donated to Bright Horizons, this year's District Outreach Project. Bright Horizons provides resources to survivors of domestic violence, sexual assault, stalking and dating violence. They serve 10 counties in Northeast Nebraska and have emergency shelters (30-day shelter) in Norfolk and O'Neill. Bright Horizons announced they are now opening a transitional shelter (6-12 month stay) for families working to rebuild their lives after leaving the emergency shelter. As Bright Horizons is funded through grants and private donations, each chapter decided to bring currently needed items to the conference. Collectively these hundreds of items were presented to representatives from Bright Horizons during the closing session.
Autumn Ickler and Jadin Doerr received certificates for completing all five Power of One Modules. Receiving Power of One Certificates for their work in specific modules were A Better You-Thomas Morrow and Jadin Doerr; Familly Ties-Jadin Doerr, Autumn Ickler; Working on Working-Autumn Ickler; Take the Lead-Jadin Doerr; and Speak Out for FCCLA-Jadin Doerr, Autumn Ickerl. Ending the day was the drawing of door prizes/baskets and announcements.