---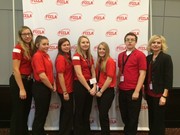 Jadin Doerr, Josalyn Lawrence, Ashlynn Hoffart, Devan Solomon, Sarah Watson, Riley Kaup, Adivser Ronita Jacobsen
---
FCCLA Attends Clusters in Denver
This past week, the local FCCLA Chapter traveled to Denver Colorado for the National FCCLA Clusters Meeting. Those from Plainview were Jadin Doerr, Sarah Watson, Devan Solomon, Ashlynn Ickler, Josalyn Lawrence, Riley Kaup, and advisor, Mrs. Jacobsen.
Thursday evening, the members traveled to Denver, CO via a charter bus. Three other District 8 FCCLA chapter members and advisers (Pierce, Creighton, Neligh-Oakdale) boarded the charter bus with them and prepared for the drive.
The first stop at 6 am was Love's Truck Stop for breakfast and preparing for the day. Then, it was time to tour the Denver Zoo for the morning. By noon the chapter was dropping off luggage and checking into the hotel.
---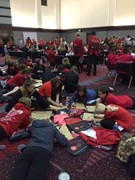 Members decorate the TherewithCare bags.
---
Members then ate lunch at Hard Rock Café explored 16
th
street while walking to the Convention Center. Upon registering for the conference in early afternoon, chapter members participated in the
Therewithcare
community service project. Next, members toured the exhibits and attended the college career fair. After a quick supper members returned to the conference for the Youth Networking Session which got them up and moving and meeting members from other chapters across the United States. By 8:30 some very tired members were attending the Opening Session and Keynote Speaker Eddie Slowikowski. With hilarious poignant storytelling, Eddie soon had members energized and dancing. Eddie got to the core of what it means to dig deep and find "the real you". His message was…By questioning your actions and influences, you can discover the truth at the heart of your character. In the end, being the best version of you is all anyone can ask. And, that's where true leadership begins.
---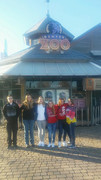 Members at the Denver Zoo.
---
Saturday found everyone up and loading the bus by 8 am and in sessions for the entire day. In the morning, members decided to attend Brain Power Today!, Change Makes Reaching Millions with the NO BULL Challenge, Collaborating to Reduce Gender and Relationship Violence, and Chipotle: Creating a Vision that Inspires Others and Provides Unlimited Opportunities for Success. Deval Solomon attended the Enhance Your FACS Program with Chief Architect Software and received a free trial version of Chief Architect. This was an exciting give-away as Solomon plans to pursue a career in architecture and design. Adviser Jacobsen also attended the Banzai: Making Financial Literacy Fun and received free Teacher and Students Packets for the Banzai program. She will include this program in her Personal Finance class next semester.
After lunch, the afternoon was again filled with session. Members attended Financial Fitness-Defend Your Goal, Save and Protect, Your Money Now to Score Later, Financial Fitness-The Sweet Life of Earing and Spending, FACTS-Vehicle Doctor, FACTS-Are You in Good Hands?, FACTS, Freeway to Safety, Spotlight on STAR Events, and Lead2Feed.
The conference concluded late Saturday afternoon with the Closing General Session and Keynote Speaker Cara Filler. During the closing, competitive events awards were given out, a slide show was presented, and promotion for the 2017 National Leadership Conference was given. Keynote Speaker Cara Filler gave an entertaining and powerful general session that equipped students with a G.P.S (Game Plan for Success) which will help them to design a life by choice (not by chance) and to navigate the speed bumps and road blocks of school and life. She left students feeling empowered to make the little everyday choices count.
Before the charter bus, filled with exhausted members, headed for Nebraska, a supper stop at Casa Bonita's was made. Members were able to consume as much chips and salsa and soppapillas as they wanted along with their dinner entre' and tokens for the arcade room. While eating, members were entertained by the 30-foot waterfall and cliff diving, pirate and gorilla act, and old time western gun fighting shows. Members arrived home by 10 am Sunday morning with hopes of sleeping the rest of the day away.