---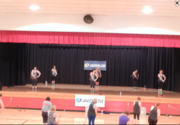 March 2th 8:00 am Jazzercise for Life in Tartan Gym.
---
FCCLA "Jazzercise For Life" set for March 25th
FCCLA "Jazzercise For Life" is back for its annual event. The Extended Dance Mixx Jazzercise class will be held at the High School Tartan Gym at 8:00 am Saturday, March 25th. Jazzercise instructors will offer this team-taught class for a cost of $20 with all proceeds going towards Relay for Life. The class will be approximately 1 1/2 hours and will be an all standing class. Attendees will receive a free Jazzercise water bottle. FCCLA Members are also providing door prizes and free childcare services at the high school.
---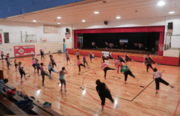 2016 Jazzercise For Life Participants get a good leg workout!
---
Pre-registration is suggested but not required. To register for this event, contact any Jazzercise Instructor at 582-4834 or Ronita Jacobsen at the high school at 582-4991. When registering, please indicate if childcare services are needed. "Anyone can attend this event. You do not need to have a Jazzercise membership. Take advantage of this opportunity to try Jazzercise and have fun working out with others while you support a great cause. Attendees will get a great workout, free water bottle, a door prize, and free childcare…. all while supporting Relay for Life!" stated Ronita Jacobsen, FCCLA Adviser. "Come join the fun!". This will be FCCLA's main fundraising event for the Norfolk Area Relay for Life "Kids for Cures" contest, which the school has won the last four years, earning the traveling trophy and 7-12 grade celebration.