---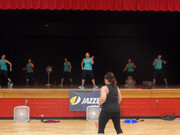 Jazzercise Instructors take the stage!
---
FCCLA Jazzercise For Life Raises Over $800
Close to 40 people attended the FCCLA Jazzercise For Life Event held Saturday, March 25 at the high school. People of all ages and gender attended the event that raised over $800 for the Norfolk Area Relay For Life. With music set, all instructors took to the stage in the Tartan Gym while participates, manned with bottles of water, prepared for the 1 hour 15-minute Dance Mixx Jazzercise Class.
---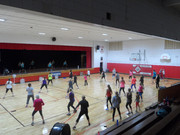 Everyone is ready to "Jazzercise for Life".
---
Jac's Fitness Center Jazzercise Instructors, Jacquie King, Katherine White, Melissa Jacot, Kayla Hoffmann, Vanessa Hitz, and Bonnie Schroth led everyone through the Dance Mixx class complete with aerobic and strength training. Devan Solomon stated, "It was a lot of fun and quite the workout! The money raised went to a good cause. I would definitely do it again!"
---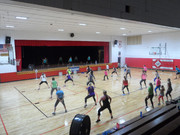 Moving into strength session of Jazzercise for LIfe
---
Jac's Fitness Center provided all who attended with a Jazzercise water bottle and some door prizes. FCCLA members also provided door prizes and along with a post workout snack of fruit kabobs and muffins. To make things easier for people to attend, FCCLA members provided free childcare in the FCS room.
"This was a fun way to raise money for Relay for Life", stated FCCLA Adviser Ronita Jacobsen. "The enthusiasm and energy level filled the gym almost as much as the music. The support that members of this community give each other is amazing. We truly live in a community that believes in giving and helping others."