---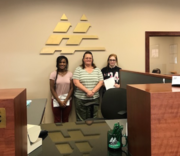 Jasmine Zuhlke and Destiny Pollard with Shelly Springer, Madison County Bank.
---
Life and Career Readiness Tour Madison County Bank
Students in the Family and Consumer Sciences Course "Life and Career Readiness" recently toured Madison County Bank to learn more about depository institutions and their services. Along with providing a tour of the bank office areas and facilities, Shelly Springer provided students with information about security, safety deposit boxes, drive-thru/ATM, fraud protection, and types of savings and checking accounts. She stressed to students the importance of checking their accounts regularly for account balance and identity theft. While at Madison County Bank students were also able to view coins from a variety of countries. Students found the metal makeup of the coins interesting along with their design and coloring. Students attending were Jasmine Zuhlke and Destiny Pollard along with teacher Ronita Jacobsen. They found the tour and presentation very interesting and informative. "This will help prepare me for college and living on my own. There was a lot of information and left me with a lot of things to think about," stated Jasmine Zuhlke.