---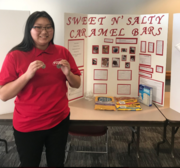 Jessica with her silver medals and Food Innovation Project.
---
Stark Qualifies for State STAR FCCLA
FCCLA Member Jessica Stark traveled to Wayne State College, Wednesday, January 23, for the District 8 FCCLA STAR (Students Taking Action with Recognition) Competition. She returned as a state qualifier in the Food Innovation event, receiving Runner-up with a silver medal. She also competed in Job Interview and received a silver medal in that event.
To advance to the state competition, members must place 1st or 2nd in their event in addition to receiving scores within a specified range. The State FCCLA STAR Competition will be held in Lincoln, April 7-9, in conjunction with the FCCLA State Conference.
In Job Interview, Stark was required to create portfolio complete with a resume, cover letter, letter of recommendation, examples of special skills, and additional items related to the job she was applying for. In Food Innovation, Stark needed to create a display board and give a 10 minute speech over food product that was modified from its original recipe.
"It was exciting to see Jessica return as a state qualifier," stated Jacobsen. "She worked hard on her projects. Hours of her Christmas Vacation was spent on her Job Interview Portfolio, not to mention the hours she put in after returning from break making changes and practicing. At districts, the judges gave her excellent suggestions and with 2 months till state, plans for improvements are already underway."
STAR Events (Students Taking Action with Recognition) recognize members for proficiency and achievement in chapter and individual projects, leadership skills, and career preparation. STAR Events offer individual skill development and application of learning through cooperative, individualized, and competitive activities. Competitive events promote the FCCLA Mission to focus on the multiple roles of family member, wage earner, and community leader. Each event and activity are designed to help members develop specific lifetime skills in character development, creative and critical thinking, interpersonal communication, practical knowledge, and career preparation. Competitive events provide additional opportunities to showcase college and career-ready knowledge, skills and abilities; promote the FCCLA chapter as an integral part of the of the Family and Consumer Sciences education program; and to connect with peers and the community.