FCCLA Attends Peer Ed. Conference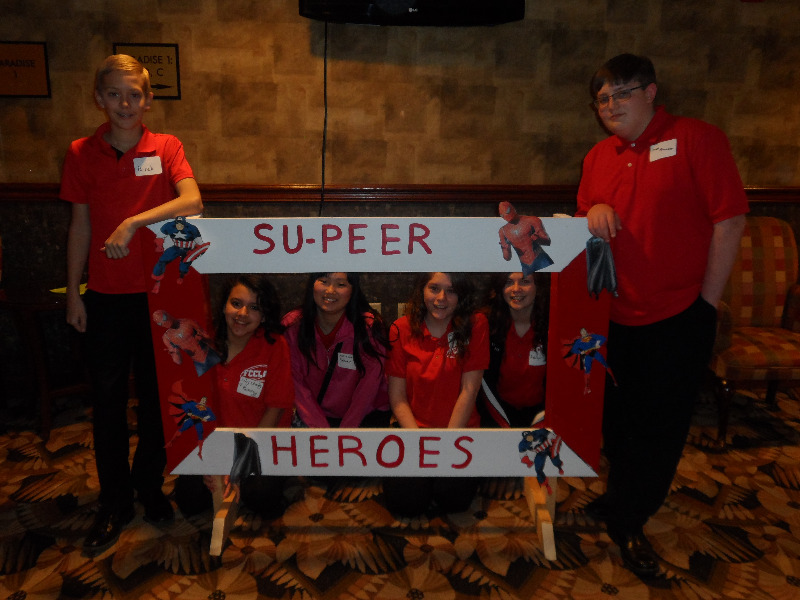 Derek Rix, Lily Wahlely, Jessica Stark, Josalyn Lawrence, Ashlynn Ickler, Jacob Ziegenbein attended Peer Education Conference 2017
The Plainview Chapter attended the FCCLA State Peer Education Conference held in Kearney, NE on February 27, 2017. The theme of the meeting was "Su-PEER Heroes!" The outreach project of the conference was CEDARS, Home for Children. Nebraska FCCLA contributed to CEDARS by donating over 500 items, and our chapter contributed by donating 20 items.
In addition, there were several speakers and sessions. The keynote speaker was Lloyd Roberts of Mothers Against Drunk Driving. He shared what his family experienced when his daughter died in a drunk driving accident. He also spoke about all the other people who were affected by her decision to drink and drive.
Erin Rea, the founder of Love Adelyn, presented a session, entitled "Giving Hope to Little Hearts". She shared her family's journey, from the birth and death of her daughter with a congenital heart defect to starting a foundation. The purpose of the Love Adelyn Foundation is to help other families who have critically ill children in Nebraska hospitals. Erin also encouraged FCCLA members to use self-accountability to get through tough situations in their lives. She also urged FCCLA members to find a way, even if it seems small, to make a difference in other's lives; they shouldn't wait for something tragic in their lives to feel like they can make a difference.
FCCLA members and sponsors attending the State Peer Education Retreat from Plainview were Ashlynn Ickler, Jessica Stark, Jacob Ziegenbein, Lily Whaley, Josalyn Lawrence, Derik Rix, Adviser Ronita Jacobsen and student teacher Frances Heiman.
All in all, Peer Conference was a blast and we look forward to attending next year!