FCCLA Awards Night/Officer Installation
FCCLA hosted their Family Night Awards Recognition/Officer Installation at the High School Media Center on April 27. The evening began with a welcome by Presient Jadin Doerr and a dessert reception. Doerr began the program with the opening ceremony followed with the Year in Review by Sarah Watson.
Autumn Rynes shared information about the District Leadership Conference and recognized Ashlynn Ickler who participated in the Creed Speaking Contest. Devan Solomon explained Clusters and described sessions that were attended. Josalyn Lawrence presented information on the Peer Education Conference.
Autumn Ickler presented STEP One Certificates to Devan Solomon, Sarah Watson, Autumn Rynes, Lily Whaley, Jacob Ziegenbein, Josalyn Lawrence, and Riley Kaup.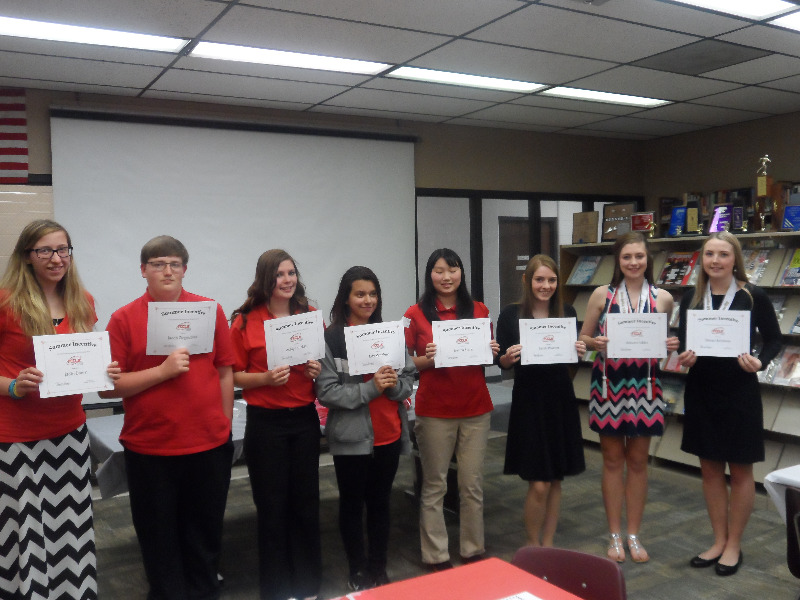 Members receiving Summer Incentive Certificates: Jadin, Jacob, Ashlynn, Lily, Jessica, Sarah, Autumn, Devan
Members meeting the requirements to attend Summer Incentive Activity and received certificates were: seniors Jadin Doerr, Autumn Ickler, Devan Solomon, and Sarah Watson; sophomore Jessica Stark; freshman Ashlynn Ickler and Jacob Ziegenbein; 8
th
grader Lily Whaley.
Students competing in STAR events received their District STAR Competition Certificates by Ashlynn Ickler. Those receiving certificates were Autumn Ickler, Devan Solomon, and Jadin Doerr. Ickler, Solomon, and Doerr were also presented with their State STAR Certificates. While at state competition, Jadin Doerr received a Gold Medal in Job Interview. Autumn Ickler and Devan Solomon received Silver Medals and 2nd Place in Chapter Service Display. Due to their 2nd place finish, Ickler and Solomon qualified for National STAR Competition which will be held in Nashville, TN in July.
Lily Whalely and Jacob Ziegenbein presented Power of One Awards. Jadin Doerr, Autumn Ickler, and Devan Solomon each received a plaque for completing all five modules of the Power of One Program in addition to receiving their chapter, state and national certificates of recognition.
Adviser Ronita Jacobsen and Officer Ashlynn Ickler also presented outstanding member awards. Members meeting the criteria for "Outstanding Member of the Year" were seniors Jadin Doerr, Autumn Ickler, and Devan Solomon.
Jadin Doerr installed the 2017-2018 officers: President-Jacob Ziegenbein, Vice-President- Lily Whaley, Secretary-Treasurer-Kaitlynn Doughtery, Historian-Jessica Stark, District Representative-Ashlynn Ickler, and National Programs-Joslalyn Lawrence. The program concluded with a slideshow of the year's events made by Devan Solomon.