FCCLA Attends Leadership Workshop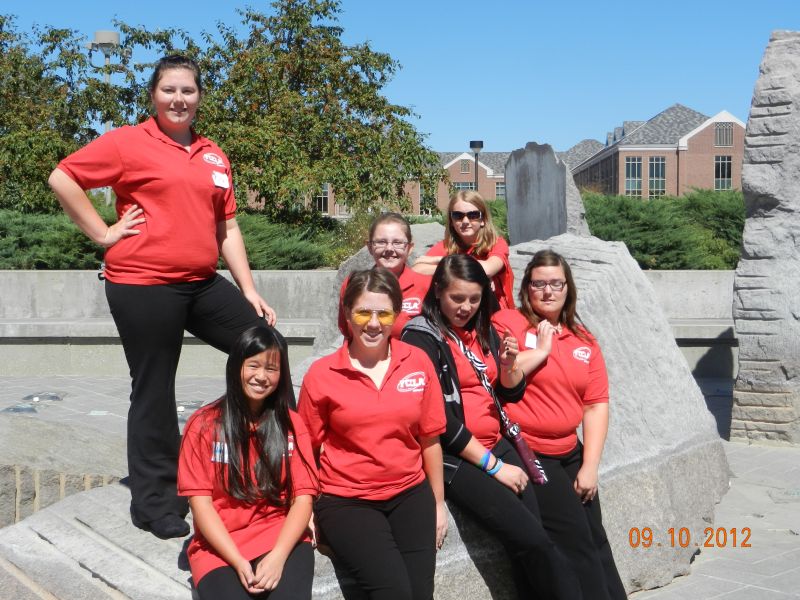 Kirsten Cattell, Natalie Lingenfelter, Erika Newman, Kaelee VanEvery, Laredo Stacken, Ashley Shaffer, Heidi Nelson
On Monday September 6th, the Plainview FCCLA chapter traveled to the University of Nebraska - Lincoln to attend the FCCLA Fall Leadership Workshop (FLW). The members that attended included Kirsten Cattell (Vice President), Kaelee VanEvery (Secretary), Erika Neumann (National Programs), Ashley Shaffer (District Officer), Natalie Lingenfelter (Historian), Heidi Nelson (Treasurer), and member Laredo Stacken, and our advisor, Mrs. Jacobsen.
Member first attended an opening session by FCCLA State Officers, Jan Brant, State FCCLA Adviser and Carol Ringenberg, Education Specialist-Human Science and Education and Health Science Career Fields. Next, officers broke into session attending as many as possible. The sessions officers attended included "Build Your Team with Social Media", "Planning Your Way to the Top", "On Your Mark, Get Set, Lead", "Score a Perfect 10", "Run for the Gold", "Nailing the 9 National Programs", "The Land Before FCCLA", and "Nationals: A Land Beyond Local and State Associations". After a short lunch, officers listened to UNL Family and Human Sciences professors talk about the Human Sciences College and its programs. Closing comments and tour directions followed the presentation.
A highlight session was a presentation by State and Peer Program Officers, which explained that FCCLA is in partnership with Kids Against Hunger. The goal of this partnership is to help raise monetary or food donations to help feed children in the United States. Students left the session with several ideas on how to complete the program of work while benefiting our community and others across the nation.
Students also found the social media session to be interesting and began thinking of ways to incorporate ideas presented into the FCCLA chapter, in addition to its existing webpage.