Jacobsen Attends ACTE Conference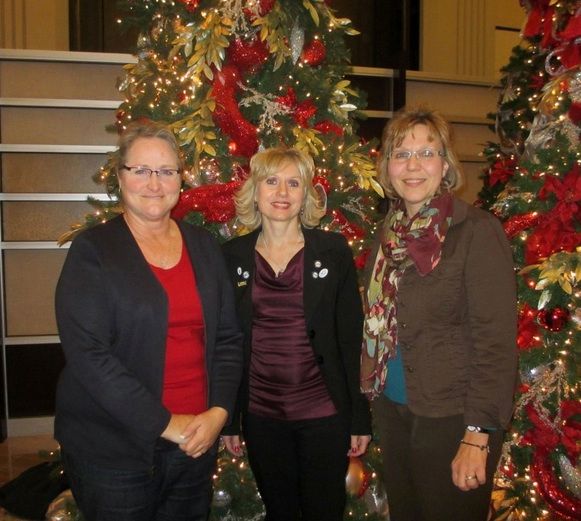 Sheree Moser (UNL), Ronita Jacobsen, and Cheryl Timm (Pierce) represented ACTEN and FCSTN at the conference.
Plainview's Family and Consumer Sciences Educator Ronita Jacobsen attended the ACTE (Association for Career and Technical Education) VISION 2012 Conference held in Atlanta, Georgia Nov. 27-Dec. 1. As President of the Association of Career and Technical Education of Nebraska (ACTEN), Jacobsen represented Nebraska at the conference. Responsibilities at the conference included participating in the Region V ACTE Meeting, ACTE Town Hall Meeting, ACTE Voting Delegates Meeting, and the State Association Leadership Breakfast.
ACTE's CareerTech VISION 2012 opened with a panel of education and industry leaders who shared their perspectives, concerns and ideas on how educators need to move forward to close the skills gap experienced today and build a prepared workforce for tomorrow. Following the opening session was the grand opening of the 2012 Career Tech Expo. Throughout the conference, more than 200 exhibitors were present to share the latest in classroom teaching materials and technology. Exhibitor workshop sessions were also available to provide educators with hands on training.
Jacobsen attended session on "Web 2.0 Tools", "Creative Teaching Methodologies to Fully Engage Students in the Classroom", and "Flipping the Classroom" which provided her with new ways to engage students, use class time more efficiently in order to individualize and differentiate instruction. "I am looking forward to implementing many of these tools and ideas next semester in my classroom as I believe student would truly benefit from this type of instruction," Jacobsen explained.
With emphasis placed on improving reading and writing within our school system, Jacobsen also attended "Integrating Reading and Writing in the Classroom Using FEFE", "Tricks, Tips, and Tools to Integrating Reading and Writing into the CTE Program" and "Motivate Low Level Learners". Jacobsen stated, "These ideas can be used in any classroom and benefits students with a variety of learning styles."
Family and Consumer Sciences Education (FCS) added the sessions designed to help educators discover new approaches in the classroom. Incorporating FCCLA National Programs in the curriculum, utilizing online resources and technology for students and teachers, integrating math and literacy in the FCS curriculum, and promoting FCS education were a few of the sessions FCS Educators participated in by contributing and attending NATFACS Showcase of Best Practices. "During this showcase I came away from the 25 roundtables with 100s of ideas that I could incorporate into my classroom to enhance learning and engage my students," stated Jacobsen.
The Saturday General Session speaker was Roland Fryer, an award-winning Harvard economist education activist and collaborator on the bestselling book Freakonomics. Fryer has been named a "Rising Star" by Fortune magazine and featured in Esquire's "Genius Issue". Fryer noted that his rise to success happened "through the medium of education and through the idea of the mind." He has concrete solutions for fixing failing schools in America, and is on a mission to make a difference. His story inspired and reinforced career and technical educators that the skills and education they are providing are of real value.
Plainview is fortunate to provide students Career and Technical Education in the areas of Agriculture, Business, Family and Consumer Sciences, Industrial Technology, and Computer Technology. Plainview also provides students an opportunity to further enhance their career skills by offering the Career Student Organizations of FFA, FCCLA, and FEA. Students who meet the requirements are also eligible to apply for the National Technical Honor Society.
Founded in 1926, ACTE is the leading national professional association representing all components of Career and Technical Education that is dedicated to the advancement of education that prepares you and adults for successful careers. The core purpose of ACTE is to provide leadership in developing educated, prepared, adaptable and competitive workforce.